Posted by Mike C on May 08, 2018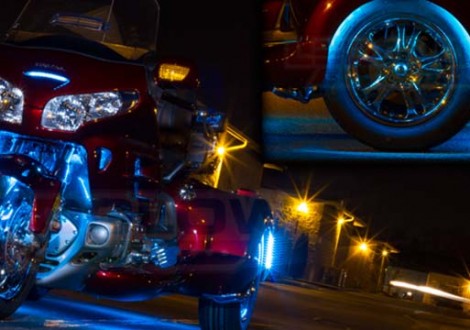 LEDGlow's LiteTrike® III Advanced Million Color Kit is the ultimate in aftermarket LED trike lighting. What makes this trike motorcycle light kit so unique is that it features a variety of Advanced Million Color strip lengths specifically designed for trikes as well as including two side mounting wheel well strips that shine a multi-color color lighting on the wheels. To go more in depth with the included light strip lengths, this trike kit comes standard with six 3 inch, four 6.5 inch, two 8.5 inch, two 10.5 inch, two 18 inch, two 24 inch and two 36 inch wheel well strips; totaling 20 flexible million color strips you can mount virtually anywhere on your trike! Speaker holes? Use the 3 inch strips. Running boards? Use the 24 inch strips. Front fenders? Use the 10.5 inch strips. The possibilities are truly endless when it comes to the LiteTrike® III Kit!
The control box of the LiteTrike® III Advanced Million Motorcycle Light Kit is what really sets this kit apart from others on the market. The slim and easy to hide control box allows you to power up to 600 SMD LEDs and features 15 solid colors which include blue, green, red, white, purple, pink, orange and much more! Also included are two color cycle modes, three flashing modes and one color fading mode that will fade through all of the 15 included solid colors. When it comes time to mount the Advanced Million Color Strips, it's recommended to prep the mounting surface of each strip with 3M Adhesion Promoter. It is not necessary to complete the installation using the 3M Adhesion Promoter, but LEDGlow is including six packets for you at no extra cost. 3M Adhesion Promoter adds an extra layer of adhesion to the already strong 3M tape on the strip that allows a secure bond that will last over time. Check out our test video where we push the 3M Adhesion Promoter to its limits! Each LiteTrike® III Lighting Kit comes included with all necessary installation accessories, instructions, free lifetime technical support and a one year limited warranty.