Classic Blue LED Motorcycle Light Kit
Image
/product_images/uploaded_images/5mm-strip.png?t=1450912327
Standard 5mm LEDs
1 LED per 5mm Chip, Good Brightness
cta
/product_images/uploaded_images/16-moto-button-classic-single-pc.jpg
cta
/product_images/uploaded_images/16-moto-button-4-brightness.jpg
cta
/product_images/uploaded_images/16-moto-button-5mm-blue-led.jpg
cta
/product_images/uploaded_images/16-moto-button-4-patterns.jpg
cta
/product_images/uploaded_images/16-moto-button-1-remote.jpg
cta
/product_images/uploaded_images/16-moto-button-12v.jpg
pdf
/content/instructions/LEDGlow-6-to-20pc-Classic-LED-Motorcycle-Lighting-Kit.pdf
GoogleImage
https://www.motorcycleledlights.com/product_images/uploaded_images/google/15_LU-MC-B_6pc.jpg
Product Description
LEDGlow's Classic Blue LED Flexible Motorcycle Lighting Kit is offered in a 6pc through 20pc LED flexible light strip kit designed to illuminate your bike while featuring an assortment of abilities including wireless operation and unique pattern modes. Select your desired kit size which is currently offered in 6 through 20 strip options with each strip featuring high intensity, wide angle 5mm LEDs designed for providing added style and safety to your motorcycle. The wireless remote allows you to effortlessly control the various lighting abilities including 4 brightness levels as well as 3 flashing modes and 1 fading mode. Each flexible light strip is easily mounted onto your bike with the included 3M tape and zip ties and allows you to bend or curve each 1/2 inch in depth strip to your desired position. Each strip is waterproof and features 5 feet of wire allowing maximum mounting capabilities. A one year warranty and free technical support are included with every LED motorcycle lights kit purchased.
LEDGlow is now offering 3M™ Adhesion Promoter, which is a liquid primer that creates an extra layer of adhesion between the LED strip and the mounting surface your bike when installing one of LEDGlow's Motorcycle Lighting Kits. Using this adhesion promoter is not required for installation, but allows for a much stronger bond than simply installing the light strip with the included 3M™ Tape on the lighting strip.
Classic Blue LED Motorcycle Lighting Kit Includes:
Ultra Bright, Wide Angle 5mm Blue LEDs
Available in 6, 8, 10, 12, 14, 16, 18 & 20 Piece Kits
Slim and Easy to Hide Control Box
4 Button Wireless Remotes
Solid Color Mode with 4 Brightness Levels
3 Flashing Modes and 1 Fading Mode
Strips are 1/2" in Depth
5' of Wire per Strip
Waterproof Strips
Expandable up to 350 LEDs
Installation Hardware and Instructions
One Year Limited Warranty
Free Lifetime Technical Support

Kit Size
6pc. Kit
8pc. Kit
10pc. Kit
12pc. Kit
LED Total
114 LEDs
162 LEDs
192 LEDs
222 LEDs

Strip Lengths
(2) - 5" Strips
(2) - 6" Strips
(2) - 12" Strips
(2) - 5" Strips
(2) - 6" Strips
(2) - 9" Strips
(2) - 12" Strips
(2) - 5" Strips
(4) - 6" Strips
(2) - 9" Strips
(2) - 12" Strips
(2) - 5" Strips
(6) - 6" Strips
(2) - 9" Strips
(2) - 12" Strips

Kit Size
14pc. Kit
16pc. Kit
18pc. Kit
20pc. Kit
LED Total
252 LEDs
282 LEDs
312 LEDs
342 LEDs

Strip Lengths
(2) - 5" Strips
(8) - 6" Strips
(2) - 9" Strips
(2) - 12" Strips
(2) - 5" Strips
(10) - 6" Strips
(2) - 9" Strips
(2) - 12" Strips
(2) - 5" Strips
(12) - 6" Strips
(2) - 9" Strips
(2) - 12" Strips
(2) - 5" Strips
(14) - 6" Strips
(2) - 9" Strips
(2) - 12" Strips
Product & Installation Videos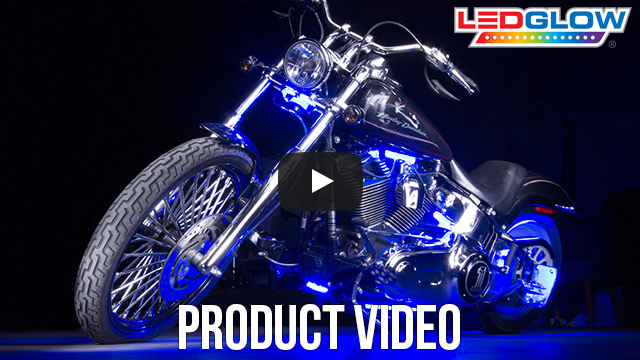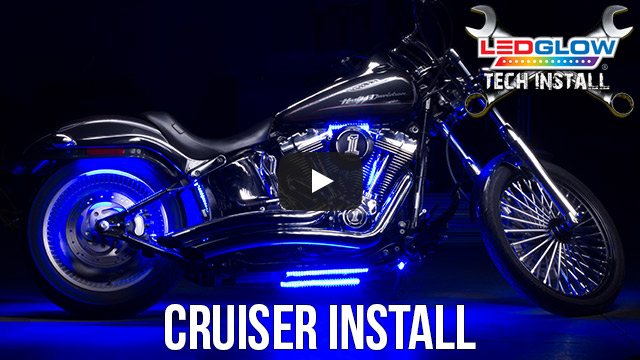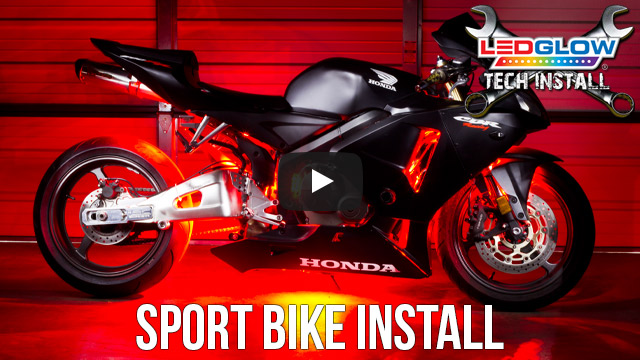 Product Reviews
Write Review
Showing reviews 1-5 of 18 | Next
Really solid product

Posted by Mark on

I have to admit I was worried on how it would look but after installed I was impressed. The quality of the parts are solid and I was particularly impressed with the design of the remote/ FOB. I recommend this product to any bike owner wanting to improve the look and to add visibility at night.

Impressively easy to install and high quality

Posted by Leif Santana-Perez on

These lights are incredibly easy to install and the quality is remarkably great. I installed them on my 2018 Harley Davidson Electra glide Ultra classic and they look great. I was going to have the dealership professionally install the lights but the 2anted to charge $300 labor force hours to install them. I decided to do it myself and installed them as well as a riders seat back in just over 35 minutes and they came out great.

I wish I could include pics because I'm quite confident that most people would agree that it looks great. Plus on a review, if I could include pics it would show others just how good these lights are.

Simply the best

Posted by Leif on

This LED accent light system looks great on my Harley Davidson Electra Glide Ultra classic. Easy to install and works great. Would reccomend them to everyone.

Nice lights, great customer service

Posted by JT on

Great color from the lights. Had a damaged wire on one of the strips, contacted customer service and they sent a replacement right away. The double sided tape on one of the lights wasn't the greatest but it still holds. Totally recommend the 3M adhesion promoter.

awesome

Posted by donald jordan on

The lights are beautiful and are so easy to install. Made my bike look so much better.
Showing reviews 1-5 of 18 | Next