The Advanced Million Color Polaris Slingshot® Lighting Kit with Smartphone Control at Motorcycle LED Lights combines your smartphone device with ultra-bright SMD LED tech to add custom, multi-colored accent lighting. These Polaris Slingshot LED Lights are custom made specifically for this three-wheeled motorcycle and are offered in 3 different options: a 20pc base kit, a 32pc kit, and a 50pc kit for maximum brightness. Experience Advanced Million Color lighting and other effects that enhance the look of your Slingshot® at night.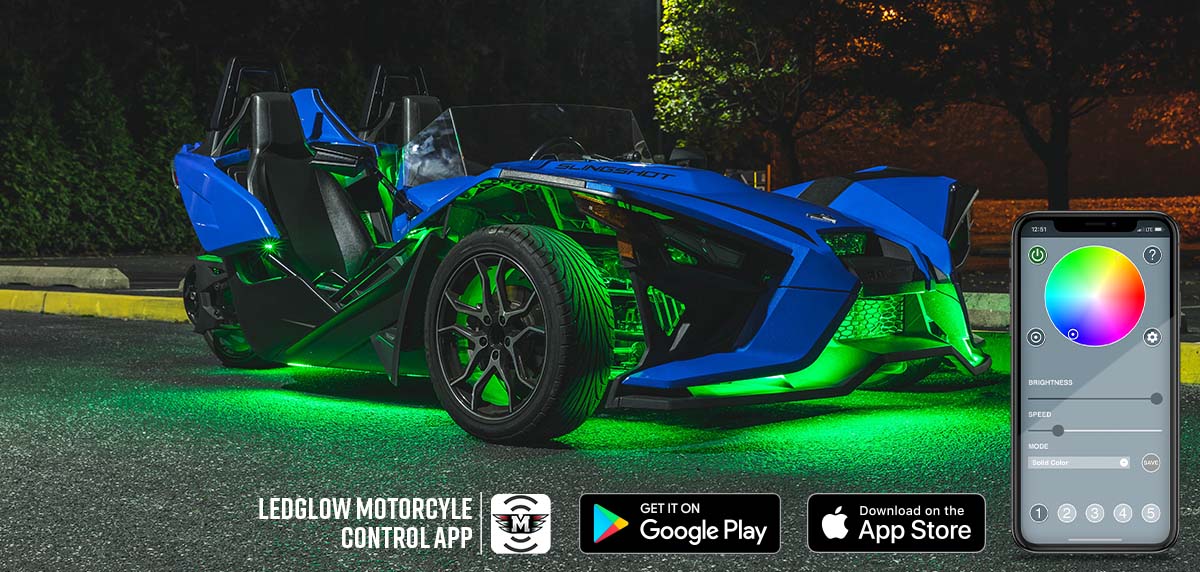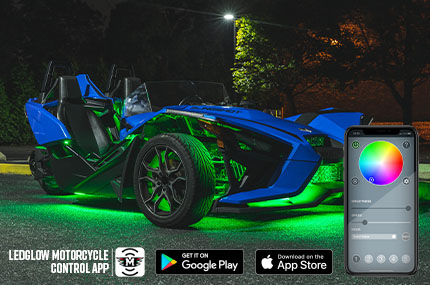 Each of our Bluetooth Slingshot LED light kits feature lighting strips developed with a 1/8" thickness that can be mounted virtually anywhere away from direct heat sources or moving parts. Unlike many LED strips that are thicker and use more resin which causes yellowing over time, these strips use less glue and are more flexible so they can be contoured to fit your preferred mounting location. Also included are 6pc Power Harnesses and 6pc, 4pc and 2pc Add-on Harnesses. The quantity of strips and harnesses will vary based on the kit size.
Waterproof Control Box

Programmed to Create Custom Patterns by Combining Advanced Million Color Lighting with Unique Lighting Effects
Control All Features Using the Included Wireless Remotes or By Downloading the LEDGlow Motorcycle Control App
Filled with a Black Epoxy Potting Material which Encapsulates All of the Controls and Circuit Boards
Compact, Easy to Hide, and Will Easily Hold Up to a Ride in the Rain or Any Other Moisture Exposure

Low Voltage Shutoff

First-Of-Its-Kind Low Voltage Shutoff Feature that Helps Conserve the Life of the Motorcycle's Battery
Available Setting that is Easily Activated Using the LEDGlow Motorcycle Control App
Automatically Shuts the Bluetooth LED Lighting Kit Off When the Motorcycle's Battery is Running Low
Activates if the Motorcycle's Battery Voltage Reads Less than 10 Volts for More than 60 Seconds

Automatic Brake Lights

Illuminates All Installed LEDs in Red, Mirroring the Motorcycle's Brake Lights and Safely Signaling Other Motorists on the Road
Pull the Brake Handle and the Brake Light Will Instantly Illuminate Red LEDs Throughout the Lighting Kit
This Feature can be Used Whether the Control Box is Powered On or Off
To Activate, Install the Blue Wire from the Control Box into the Motorcycle's Brake Signal Wires
Color Wheel

Select Virtually Any Solid Color with the Integrated Color Wheel
Download the LEDGlow Motorcycle Control App to Your iOS or Android
Build Custom Lighting Patterns Combining Colors and Lighting Effects
Cycle Through Solid Color Variations with the Advanced Million Color Mode

Modes

Choose Between Color Cycles, Strobe Modes, Fade Modes and More
With These LED Lights for Slingshots You Can Adjust the Brightness Level
Adjust the Speed of the Selected Modes
Easily Toggle Through All Lighting Kit Options to Build Custom Patterns

Settings

Automatic Brake Lights, Hazard Lights and Dual Zone Control are Available
It's Easy to Turn This Polaris Slingshot LED Light Kit On or Off
Save Your Favorite Color and Lighting Effect Patterns
Easily Return to Your Favorite Patterns with Programmable Presets
Stand Out with Bluetooth Polaris Slingshot LED Lights
These Polaris Slingshot LED light kits deliver added safety when you're riding after sundown. Utilizing ultra-bright LED illumination, you're able to keep other drivers alerted every time you're braking, changing lanes or making a turn. On top of added safety, you're sure to turn a few heads when you're riding with custom multi-color patterns activated. Look no further when you're searching for the best LED lights for Slingshots.
Polaris Slingshot Light Kits with Everything You Need
Everything is included for installation with these Polaris Slingshot LED lights. In addition to the lighting strips and wiring harnesses, you'll also receive Adhesion Promoter which reinforces the bond between the light strip and the bike. Mounting hardware is also included along with instructions that walk you through the process step by step. At Motorcycle LED Lights we give you an All-In-On Slingshot LED light kit so you don't have to search anywhere else for additional parts.
Build Custom Patterns with Polaris Slingshot Lights
The included waterproof Advanced Million Color Control Box with Smartphone Control offers total lighting control from the palm of your hand using the LEDGlow Motorcycle Control App. These Bluetooth Slingshot LED lights allow you to use your iOS or Android device to select virtually any solid color via the Integrated Color Wheel and to choose from 10 unique patterns via the dropdown menu. Create the perfect showcase of lighting to put your three-wheeled motorcycle on display after the sun goes down.
LEDGlow Guarantee
LEDGlow includes installation instructions, free lifetime technical support and a one year limited warranty with every purchase of our moto LED lights.
Slingshot® is a registered trademark of Polaris Industries Inc. This product is not designed, produced or manufactured by Polaris Industries Inc. LEDGlow Lighting, LLC is not any way, shape or form affiliated with Polaris Industries Inc.
App Store® is a trademark of Apple Inc. | Google Play and the Google Play logo are trademarks of Google LLC.