LEDGlow's Advanced Amber LED Mini Motorcycle Lighting Kit illuminates your bike's gas tank, frame rail or triple trees with a vibrant amber glow by utilizing ultra-bright, SMD LED technology housed in reduced-profile 6" mini strips. Showcase any bike at night with custom patterns combining spotless amber lighting and effects when you navigate features using one of the wireless remotes. With these motorcycle LED light kits you can transform the look of your bike with subtle, compact lighting strips and stand out when you're riding after sundown.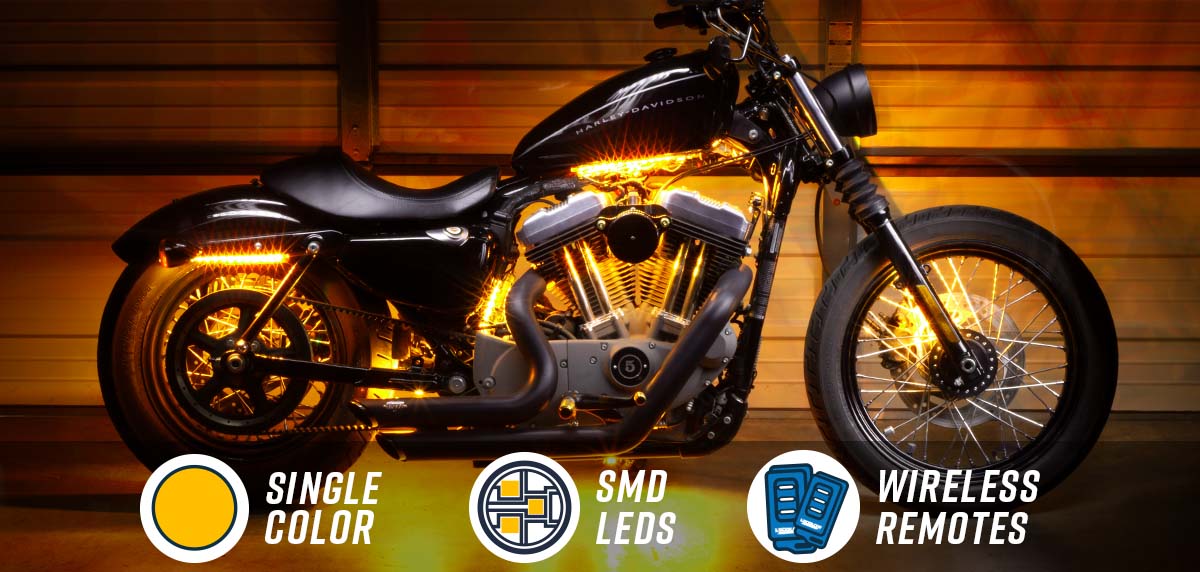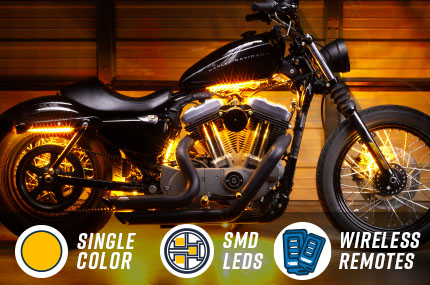 The Advanced Amber Mini Motorcycle LED Kit features ultra-thin flexible lighting strips with surface mounted 5050 SMD LED technology. Select a 6pc kit all the way up to an 18pc kit. Each 6" motorcycle light strip is 1/8" thick and holds 6 SMD LEDs. They can be mounted virtually anywhere on the bike away from direct heat sources and moving parts. This motorcycle light kit also includes a waterproof Control Box and (2) 4-Button Wireless Remotes. The Control Box is programmed with 4 Brightness Levels for Solid Color Mode, 3 Flashing Modes, and 1 Fading Mode. It has a compact, round design that measures 1-5/8" in diameter and 5/8" in height, making it easy to hide under the seat.
Waterproof Control Box

Waterproof Design
Compact and Easy to Hide
Solid Color Mode with 4 Brightness Levels
3 Flashing Modes and 1 Fading Mode
(2) 4-Button Wireless Remotes

Strip Profile

6 Piece Motorcycle Kits
6" Amber SMD LED Mini Lighting Strips
Ultra Thin Tube Profile at 1/8"
36 Ultra Bright, Wide Angle SMD LEDs
Tubes Have 4' of Wire

Installation

Create a Custom Layout
Wiring Harnesses
Adhesive Tape
Zip Ties
Installation Instructions
Mini Motorcycle LED Lights Expandability
With this motorcycle LED kit's expandability option, you can install up to 18 ultra-bright lighting strips for a total of 120 SMD LEDs. You can also upgrade anytime that you choose. If you start with a 6pc base kit now, you can go back and install additional lighting strips at a later date. With a custom layout on your Harley, Ducati, Yamaha, Motorrad and more, your motorcycle will go to the next level with LED accent lighting. LEDGlow is your destination when you're looking for the best motorcycle light kit for your bike.
Mini Motorcycle LED Kit Wiring
Each LED lighting strip is equipped with 4' of Power Wire which easily connects to the Power Harnesses via Modular Connectors. Attached to the Control Box is 18" of wire with a Male Modular Connector that connects to the Power Harness and 12" of Power and Ground wires that connect to the battery. The Power Wire has a waterproof 2 Amp Inline Blade Fuse that protects the Power Circuit. 1', 2', 3' & 5' Wiring Extensions are also available that give you even more flexibility during installation for a custom setup.
5050 SMD LED Lighting
LEDGlow motorcycle underglow light kits are much brighter by featuring more LEDs, and the light strips are much thinner than the standard motorcycle LED strip kit. These amber motorcycle LED lights feature an expanded LED count with SMD chips, resulting in more LEDs working together to create a vibrant glow surrounding your bike. A single SMD chip contains 3 concentrated LEDs which produce wide angle illumination with less spotting than standard 5mm LEDs.
LEDGlow Guarantee
LEDGlow includes Free Lifetime Technical Support and a One Year Limited Warranty with every purchase of our moto LED lights.