LEDGlow Flexible Million Color Motorcycle LED Lights are offered in 6pc or 8pc kits and universally fit ultra-bright SMD LED chips to any sport bike or cruiser. These motorcycle LED light kits comes with 6" flexible tubes that can be bent or curved to the right position so the mounting options are endless. Install them under the gas tank, to the front or rear fenders, forks, frame rail and more. The 6pc kit features 72 SMD LEDs and the 8pc kit features 96 SMD LEDs. Each flex tube has 4.5' of wire to maximize the mounting options.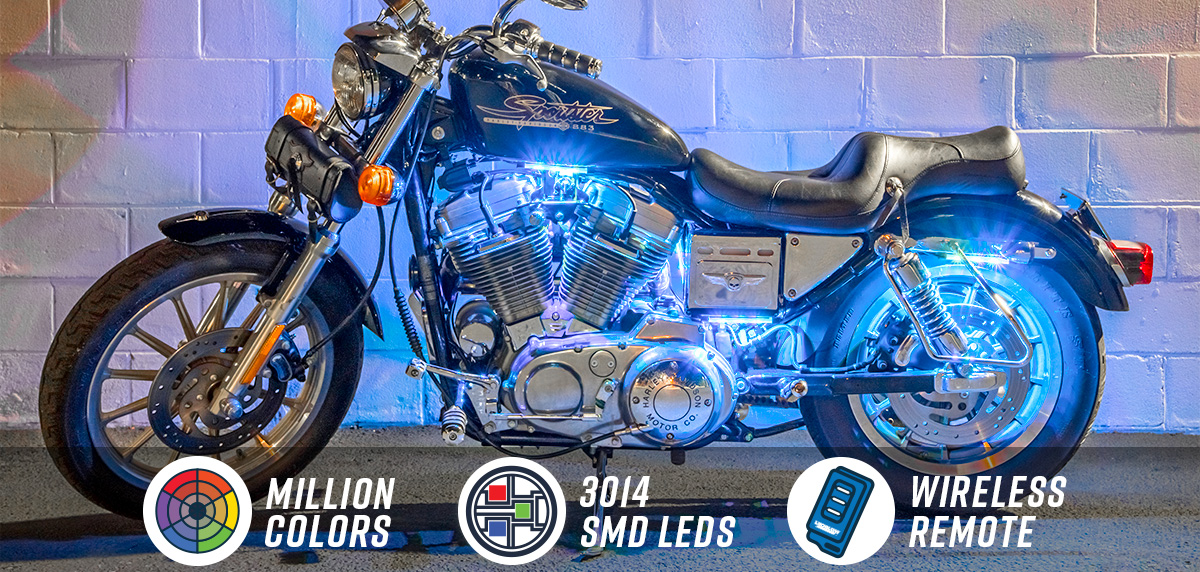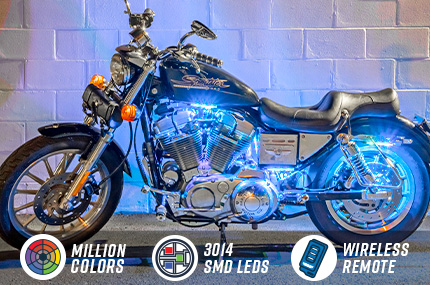 The compact Control Box is programmed with 4 Flash Patterns, 3 Scan Modes, 1 Color Cycle Mode and 1 Fade Mode. 15 Solid Color Modes include Blue, Red, Green, Orange, Purple, Pink, White, Teal and Yellow. The Million Color Cycle scrolls through shading variations for each solid color. Use the included Wireless Remote to operate every feature available with these motorcycle underglow light kits.
Lighting Tubes

6" Flex Tubes
Waterproof & Durable
Bend Or Curve To Fit
3014 SMD LED Lighting
Set Up A Custom Layout

Control Box

Easy To Conceal
15 Solid Colors: Blue, Red, Green, Orange, Purple, Pink, White, Teal, Yellow & More
Million Color Cycle
4 Flash Patterns, 3 Scan Modes, 1 Fade Mode
Create Custom Patterns

Wireless Remote

4 Button Remote
Easily Operate Features
Radius of 75'
Add To Your Keychain
Combine Colors and Effects


Scroll through an almost infinite number of variations in the shading of each Solid Color Mode with LEDGlow's Million Color Cycle. This feature is available as one of the active settings with this motorcycle light kit. Simply select it using the included remote. Million Color Cycle Mode will showcase your bike after sundown with an unrivaled multi-color lighting display.
What Are Flexible Million Color Street Bike Lights?
LEDGlow Flexible Million Color Motorcycle LED Kits get their name from the durable flex tubes that are the foundation of these LED motorcycle lights. Not only can you add them to the gas tank, frame rail, triple trees and more but you can bend and curve the tubes to get the exact placement you're looking for. Select colors and lighting effects including Million Color Cycle Mode and take your bike to another level.
Stand Out with Flex Million Color Motorcycle Lights
Flex Million Color LED Motorcycle Lights transform the look of your street bike after sundown. Program colors and effects to create custom lighting patterns that are sure to turn a few heads when you're out on the road. Our motorcycle lights also deliver added safety by making you stand out at night with ultra-bright SMD LED illumination. LEDGlow LED lights for motorcycles are sure to turn a few heads when installed to any Harley, Yamaha, Ducati and more.
LEDGlow Guarantee
LEDGlow includes installation instructions, free lifetime technical support and a one year limited warranty with every purchase of our moto LED lights.