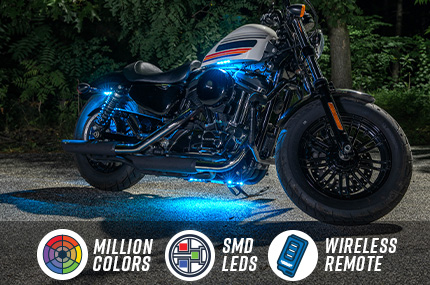 LEDGlow's Advanced Million Color Mini Motorcycle Lighting Kit illuminates your bike's gas tank, frame rail or triple trees with a spotless, multi-color glow by utilizing ultra-bright, SMD technology housed in ultra-thin flexible 4 inch strips. With 5050 SMD LEDs you're getting 3 colors in 1 LED chip, and the result is a color spill which is much more vibrant and even brighter. These motorcycle underglow lights are offered in a 6pc kit and can be expanded all the way up to a 20pc kit. Each 4" motorcycle light strip features 4 SMD LEDs, 3' of wire and a thickness of 1/8" to be mounted virtually anywhere on the bike away from direct heat sources and moving parts. Use the included waterproof control box to create custom lighting patterns that showcase your motorcycle with smaller, brighter, flexible lighting strips that include everything for installation.
Waterproof Control Box

Durable in Tough Conditions
Create Custom Lighting Patterns
15 Solid Color Modes
Color Cycle, Flashing, Fading Modes
Blue Wire for Brake Light Feature

Wireless Remote

Wireless Remote Included
Activate All Kit Functions
4 Buttons Control All Features
Pre-Programmed
Works Within 30-Foot Range

Strip Profile

4" Flexible LED Strips
Strips are 1/8" in Depth
Fully Sealed & Waterproof
Strips Can Be Cut to Size
Mount Using Adhesive Tape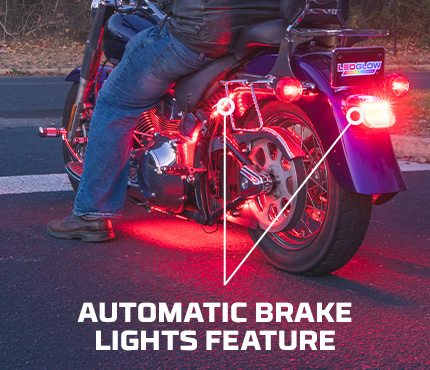 The Automatic Brake Lights feature illuminates all installed LEDs in red, mirroring the motorcycle's brake lights and safely signaling other motorists on the road. Pull the brake handle and the brake light will instantly illuminate red LEDs throughout the lighting kit. This feature can be used whether the control box is powered on or off. To activate the function, install the blue wire from the control box into the motorcycle's brake signal wires.
Features
With the ultra-thin and flexible LED lighting strips, you can create a completely custom layout for your bike by installing them to the turn signals, fenders, frame rails, beneath your seat and more. The base kit is also expandable up to 20 light strips for the ultimate LED lighting experience. The control box has a unique, round design that measures 1-5/8" in diameter and 5/8" in height, making it extremely easy to hide. Included with the many lighting features is Advanced Million Color Cycle Mode, which you can use to scroll through a nearly unlimited number of variations in the shading of each solid color option.
Wiring Harnesses
LEDGlow Advanced Million Color Mini SMD LED Motorcycle LED Light Kits include all wiring required for installation. Attached to the control box is 18" of wire with a male modular connector that connects to the power harness, and 12" of power and ground wires that connect to the battery. The power harness is 2' long and features a waterproof 2 amp inline blade fuse that protects the power circuit of the control box. Each LED lighting strip is also equipped with 3' of power wire which easily connects to the power harness by once again utilizing modular connectors for seamless connections.
LEDGlow Guarantee
LEDGlow includes Free Lifetime Technical Support and a One Year Limited Warranty with every purchase of our mini moto LED lights.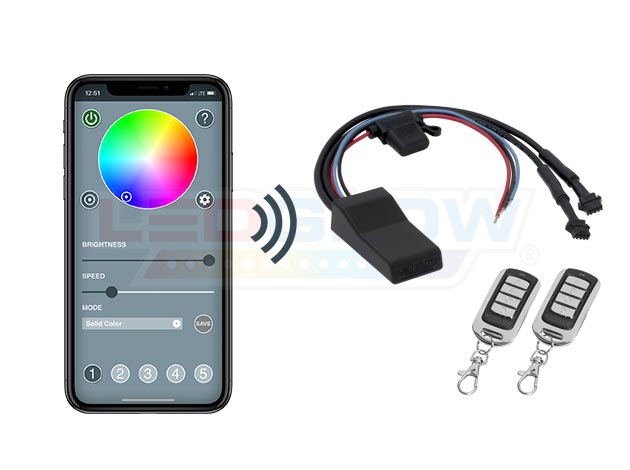 Upgrading your kit to include the smartphone control box unlocks a collection of features that you can easily select from via the Motorcycle Control App on your iOS or Android smartphone. The app allows you to select virtually any solid color via the integrated color wheel and enables dual zone lighting that illuminates 2 different sections of your bike with different colors, automatic brake lights feature that mirrors your bike's factory brake lights, and hazard lights feature. The control box connects to your smartphone via a secure, Bluetooth 4.0 LE Connection.
LEDGlow Motorcycle Control App for iOS & Android Devices
Allows Up To 1,000 SMD LEDs for Maximum Brightness
Dual Zone Lighting Illuminates 2 Separate Sections of Motorcycle with 2 Different Colors
Automatic Brake Lights Feature Mirrors Motorcycle's Brake Lights when Brakes are Applied
Hazard Lights Features Mirrors Motorcycle's Hazard Lights
Low Voltage Shut Off Setting Helps Conserve The Motorcycle's Battery
Includes 2 Wireless Remotes & Secure Bluetooth 4.0 LE Connection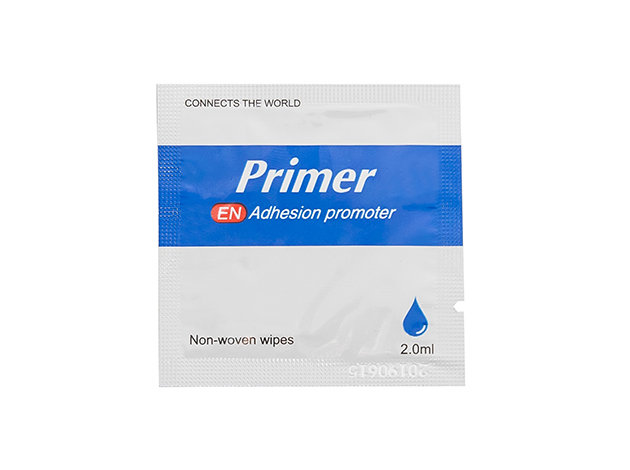 Adhesion Promoter provides additional strength by creating a stronger bond between the light strip and mounting location that will last over time, rather than just using the provided double-sided tape. This promoter is available from 3 packets all the way up to 27 packets and not required for installation.
Provides Additional Adhesion Strength Between the LED Light & Mounting Location
Available from 3, 9, 18, or 27 Promoter Packets
1' & 2' Wiring Extensions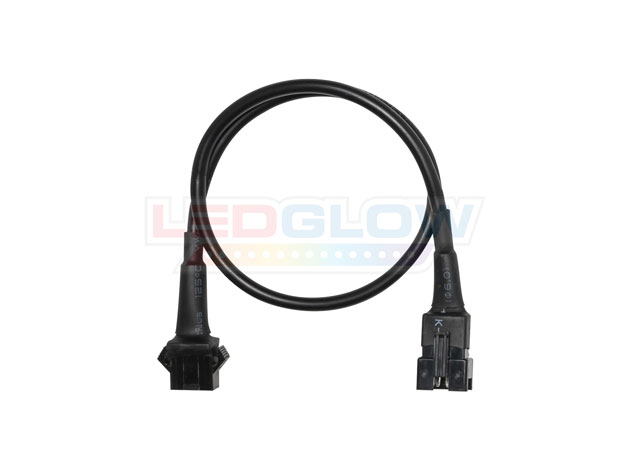 These wiring extensions add 1' or 2' of wiring to the 3' of wire attached to the motorcycle strip to reach further areas of the bike. Extensions are available in pairs from 2pc all the way up to 8pc to account for strips mounted on both sides of the motorcycle.
Extends 3' Motorcycle Light Strip Wiring An Additional 1' or 2' in Length
Available in 2pc, 4pc, 6pc or 8pc Options
3' & 5' Wiring Extensions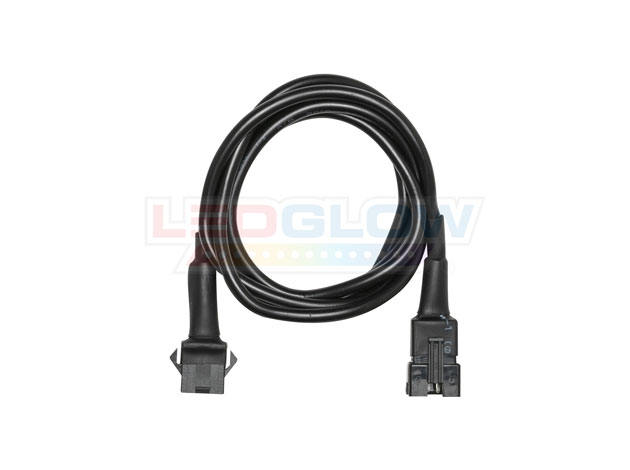 These wiring extensions are ideal for larger motorcycles such as baggers, trikes and Slingshots, that add 3' or 5' of wiring to the 3' of wire attached to the motorcycle strip to reach areas that it may not reach without. Extensions are available in pairs from 2pc all the way up to 8pc to account for strips mounted on both sides of the motorcycle.
Extends 3' Motorcycle Light Strip Wiring An Additional 3' or 5' in Length
Perfect for Larger Motorcycles such as Baggers, Trikes or Slingshots
Available in 2pc, 4pc, 6pc or 8pc Options
The Advanced Million Color LED Mini Motorcycle Lighting Kit comes with an installation guide which is available online and included with your order. You can also visit our library of installation videos which include complete step-by-step tutorials and useful tips on how to install a wide range of LEDGlow products.
| | |
| --- | --- |
| Download and Print the PDF | View Our Help Center |