Advanced Million Color SMD LED Motorcycle Lighting Kit
Image
/product_images/uploaded_images/smd-strip.png
SMD LEDs
3 LEDs per SMD Chip, Best Brightness
2 Wireless Remotes
6pc Kit Includes 1 Wireless Remote
Strips Can Be Cut to Size
cta
/product_images/uploaded_images/16-moto-button-adv-million-pc.jpg
cta
/product_images/uploaded_images/16-moto-button-15-colors.jpg
cta
/product_images/uploaded_images/16-moto-button-smd-led.jpg
cta
/product_images/uploaded_images/16-moto-button-6-patterns.jpg
cta
/product_images/uploaded_images/16-moto-button-2-new-remotes-adv-million.jpg
cta
/product_images/uploaded_images/16-moto-button-1-year-warranty.jpg
pdf
/content/instructions/Advanced-Million-Color-Motorcycle-Kit-New-CB.pdf
Product Description
LEDGlow's Advanced Million Color LED Motorcycle Lighting Kit utilizes ultra-bright surface mounted RGB LED technology which produces extremely bright colors for a custom style plus added visibility when riding at night. The featured SMD LEDs are so remarkable that when looking at each SMD chip, you cannot see the three separate RGB LEDs that are used to create each of the featured solid colors! The Advanced Million Color SMD Motorcycle Light Kit is available in a 6pc base kit and can be expanded to include up to a total of 30 multi-color LED light strips for ultimate brightness!
Each 6pc-20pc Advanced Million Color SMD LED Motorcycle Light Kit now includes a waterproof control box that features 15 solid color modes, 2 color cycle modes, 3 flashing modes and 1 fading mode. All of the featured color modes and lighting patterns can be easily selected using one of the two wireless remotes. The waterproof control box features a new, unique round design that measures at 1 5/8" in diameter and 5/8" in height making it extremely easy to hide under the seat. Attached to the control box is 18" of wire with a male modular connector that connects to the power harness and 12" of power and ground wires that connect to the battery. The power wire features a waterproof 2 amp inline blade fuse that protects the power circuit of the control box. Each motorcycle light strip is flexible, features 4' of wiring and can be mounted to your preferred location with the included 3M™ tape. If a light strip is too long for a certain location, you can cut it after every third LED for easier mounting to those tighter locations. LEDGlow includes installation instructions, free lifetime technical support and a one year limited warranty with each Advanced Million Color LED Motorcycle Light Kit purchased.
Upgrading the motorcycle kit to include the Advanced Million Color Control Box with Smartphone Control offers total LED control directly from the palm of your hand through the LEDGlow Motorcycle Control App. Using your iOS (7.0 & up) or Android (4.4 KitKat & up) smartphone device allows you to select virtually any solid color via the integrated color wheel and choose from 15 unique patterns from the dropdown menu. The dual zone control feature allows even further color and lighting pattern customization by independently illuminating 2 sections of the motorcycle simultaneously. The automatic brake light feature illuminates all installed LEDs in red mirroring the motorcycle's brake lights while safely signaling other motorists on the road. The hazard lights feature automatically overrides any color or pattern and flashes amber LEDs alerting other motorists on the road. The app features a first-of-its-kind low voltage shut off setting that helps conserve the life of the motorcycle's battery. If the battery voltage reads less than 10 volts for more than 60 seconds, the kit will automatically shut off allowing you to safely get to your destination. Click here to learn more about the smartphone control box and its amazing features.
LEDGlow offers 3M™ Adhesion Promoter, which is a liquid primer that creates an extra layer of adhesion between the mini LED strip and the mounting surface of your motorcycle. Using this adhesion promoter is not required to complete the installation, but allows for a much stronger bond that will last over time than simply installed the light strip with the included 3M™ Tape attached to the strip.
Advanced Million Color SMD LED Motorcycle Lighting Kit Includes:
Ultra-Bright, Wide Angle Surface Mounted LEDs
Available in 6, 8, 10, 12, 14, 16, 18, 20, 26 & 30 Piece Kits
(1) Waterproof Control Box (6pc-20pc kits only; included control box for 26pc and 30pc kits is NOT fully waterproof)
(2) 4 Button Wireless Remotes
15 Solid Color Modes Include Blue, Red, Green, Pink, Purple, Teal, Orange, Aqua,
Yellow, Light Pink, Light Green, Light Purple, Cool Blue, Cool White & Warm White
2 Color Cycle Modes, 3 Flashing Modes, & 1 Fading Mode
Strips are 1/8" in Depth
4' of Wire per Strip
Waterproof 2 Amp Inline Blade Fuse
Strips can be Cut to Size
Installation Instructions and Mounting Hardware
Free Lifetime Techincal Support
One Year Limited Warranty
Product & Installation Videos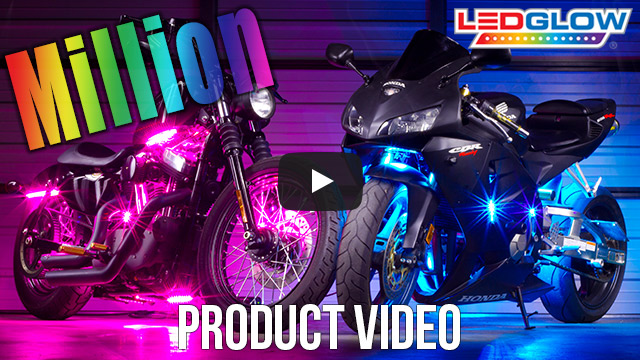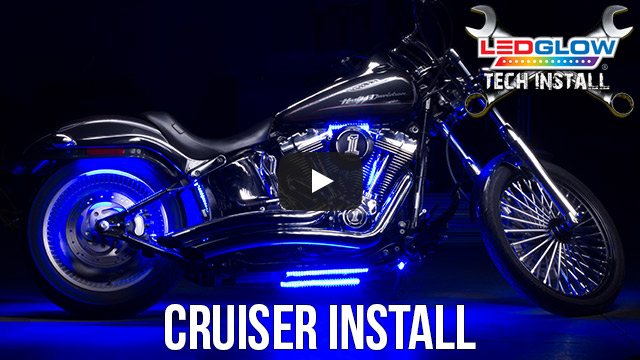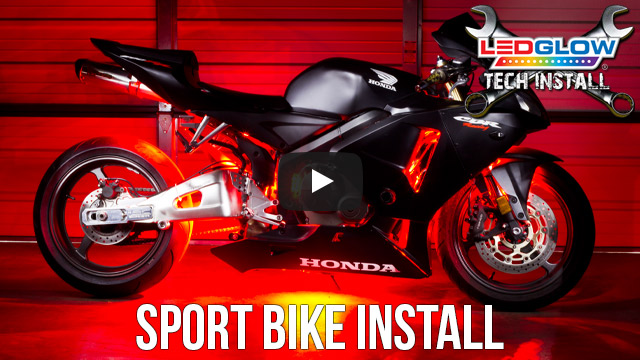 Product Reviews
Write Review
Showing reviews 1-10 of 36 | Next
Prefect lighting

Posted by Jake on

I was looking for kit for a out a week or did not want to get kit that wood burning up or fall off other short out my bike. This kit is pricey but with the the price comes the prefect set up the leds r bright the modes are nice the cell phone app is usefull the kit is extremity bright I can still plug 2 more bars I to the kit I have now also so that makes it comes nice I had a hard time placing 16 srripslol. I wired it and ran everything my self on my 2016 r6 . I got the gray one so the muilty correct works out good cuz tye hike is a neutral color

Looks great at night

Posted by Unknown on

Had this kit installed on my Yamaha Bolt. It really makes the bike stand out at night. I get lots of compliments when I take it out to bike nights. Money well spent. I am very satisfied with the product.

great light system.

Posted by Terry Payne on

The motorcycle LED light were easy to hook up and install. The wire lengths are more then enough. You do have to follow the directions and do a system check before you install the lights to ensure that everything works like it is suppose to. I have installed two different kits, both work good. i am pleased with how they turned out.

GR8SERVICE

Posted by Bian Harrington on

I have a 2016 road glide and installed them finally. very easy to install . I purchased the 16 adv million kitwith the smart phone app which I really glad I did what a big difference for me .

only downside I wish I ordered a bigger kit like 20 to 25 buy the time I was done.

great product

Posted by Unknown on

I have an 03 heritage Black and chrome love the look just makes the chrome pop and something to make it different from other bikes

AWESOME!!! (and the caps lock and exclamation points are deliberate)

Posted by Sam on

Got the 8 piece adv million kit for VTX1800C.
Great price, easy to install, great lighting. Customer service was OUTSTANDING!
Had an issue with a strip not lighting correctly when it arrived, sent a replacement out right away, no questions asked( except for verifying problem), upon arrival replacement had an air bubble in it. Tech support thought it would still be fine to install but sent another replacement just ensure no problems.

Only downside is I wish I would have gotten then 10piece set and make sure you have some room for the excess wiring as each strip comes with 4ft.
I would 100% recommend this company/product to ANYONE who is even thinking about putting LEDs on your bike.



Best Lighting Company in Existance

Posted by Brian Parrish on

I've been using LEDGLOW and GLOWSHIFT since their first LED undercar kit and tinted gauges over 10 years ago. This Bike kit goes above and beyond any product they have made up until now. Super bright, super easy install, awesome interface and added safety functions. Can't praise this product or the comanies support enough. They are the only name in lighting I will ever go with. Best of the best.

JUST WOW!!!

Posted by Harold on

Fast Ship,Well packed,Called previous to ordering with Fitment question and didn't have to hang on phone. I put the advanced million pc set with smart phone option on my 99 Gold Wing and it was so EZ to put on and get running,couldn't believe it! Love it!!!!The brake light feature is Awesome. Best LEDs on the market IMHO!

nice looking lights..

Posted by Unknown on

I have a 2016 zx14 and i bought the advanced million 12pc set..it looks great on the bike..i get compliments all the time on it. when i park somewhere people just keep staring..i may add more later..

Excellent Quality!!!

Posted by Brett Franck Sr. on

I have been purchasing from LED Glow for years. Over the years I've purchased about 10 sets and I always buy the 12, 14 and 16 strip sets for my Harleys. The installations are super easy and the LED's and controllers are the highest quality. The only challenge that I've faced is tucking the large amount of wiring under the seat of my Harley's. (due to multiple octopus cables to handle the multiple strips.) I have recommended LED Glow to all my friends and many have purchased the same. Technical support is excellent here too!! Customer service has been the best!! I have a friend that purchased from a competing vendor and has had nothing but troubles with the remotes. BUY Here for quality!!
Showing reviews 1-10 of 36 | Next
Instagram Showcase