Advanced Million Color SMD LED Motorcycle Lighting Kit
Image
/product_images/uploaded_images/smd-strip.png
cta
/product_images/uploaded_images/16-moto-button-adv-million-pc.jpg
cta
/product_images/uploaded_images/16-moto-button-15-colors.jpg
cta
/product_images/uploaded_images/16-moto-button-smd-led.jpg
cta
/product_images/uploaded_images/16-moto-button-6-patterns.jpg
cta
/product_images/uploaded_images/16-moto-button-2-new-remotes-adv-million.jpg
cta
/product_images/uploaded_images/16-moto-button-1-year-warranty.jpg
pdf
/content/instructions/Advanced-Million-Color-Motorcycle-Kit-New-CB.pdf
GoogleImage
https://www.motorcycleledlights.com/product_images/uploaded_images/google/17-Adv-Million-WP-Google-Shopping.jpg
GoogleTitle
LEDGlow Motorcycle Advanced Million Color LED Accent Light Kit - Waterproof - Multi-Color Flexible Strips - Control Box w/ 2 Remotes - 6pc-30pc Sizes
Product Description
LEDGlow's Advanced Million Color LED Motorcycle Lighting Kit utilizes ultra-bright surface mounted RGB LED technology which produces extremely bright colors for a custom style plus added visibility when riding at night. The featured SMD LEDs are so remarkable that when looking at each SMD chip, you cannot see the three separate RGB LEDs that are used to create each of the featured solid colors! The Advanced Million Color SMD Motorcycle Light Kit is available in a 6pc base kit and can be expanded to include up to a total of 30 multi-color LED light strips for ultimate brightness!
Each 6pc-20pc Advanced Million Color SMD LED Motorcycle Light Kit now includes a waterproof control box that features 15 solid color modes, 2 color cycle modes, 3 flashing modes and 1 fading mode. All of the featured color modes and lighting patterns can be easily selected using one of the two wireless remotes. The waterproof control box features a new, unique round design that measures at 1 5/8" in diameter and 5/8" in height making it extremely easy to hide under the seat. Attached to the control box is 18" of wire with a male modular connector that connects to the power harness and 12" of power and ground wires that connect to the battery. The power wire features a waterproof 2 amp inline blade fuse that protects the power circuit of the control box. Each motorcycle light strip is flexible, features 4' of wiring and can be mounted to your preferred location with the included 3M™ tape. If a light strip is too long for a certain location, you can cut it after every third LED for easier mounting to those tighter locations. LEDGlow includes installation instructions, free lifetime technical support and a one year limited warranty with each Advanced Million Color LED Motorcycle Light Kit purchased.
LEDGlow offers 3M™ Adhesion Promoter, which is a liquid primer that creates an extra layer of adhesion between the mini LED strip and the mounting surface of your motorcycle. Using this adhesion promoter is not required to complete the installation, but allows for a much stronger bond that will last over time than simply installed the light strip with the included 3M™ Tape attached to the strip.
Advanced Million Color SMD LED Motorcycle Lighting Kit Includes:
Ultra-Bright, Wide Angle Surface Mounted LEDs
Available in 6, 8, 10, 12, 14, 16, 18, 20, 26 & 30 Piece Kits
(1) Waterproof Control Box (6pc-20pc kits only; included control box for 26pc and 30pc kits is NOT fully waterproof)
(2) 4 Button Wireless Remotes
15 Solid Color Modes Include Blue, Red, Green, Pink, Purple, Teal, Orange, Aqua,
Yellow, Light Pink, Light Green, Light Purple, Cool Blue, Cool White & Warm White
2 Color Cycle Modes, 3 Flashing Modes, & 1 Fading Mode
Strips are 1/4" in Depth
4' of Wire per Strip
Waterproof 2 Amp Inline Blade Fuse
Strips can be Cut to Size
Installation Instructions and Mounting Hardware
Free Lifetime Techincal Support
One Year Limited Warranty
Product & Installation Videos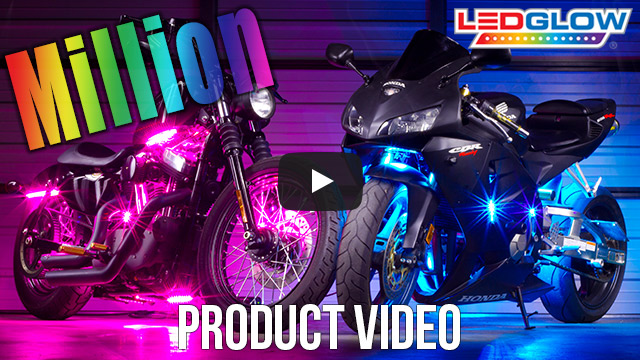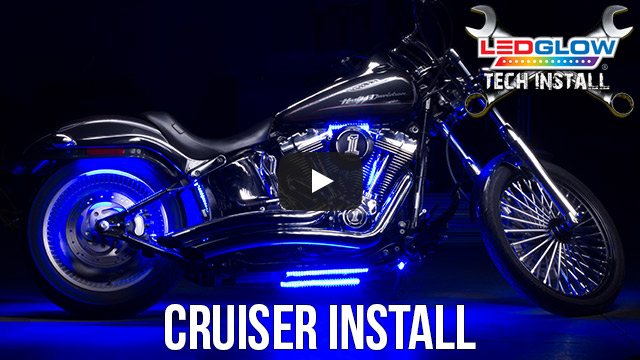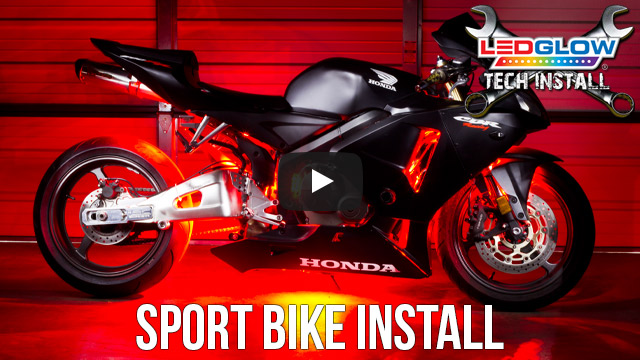 Product Reviews
Write Review
Previous | Showing reviews 6-10 of 69 | Next
9

Posted by Unknown on

Love the lights. Easy install. Been recommending to those that stare in awe.

Exactly as expected!

Posted by Kuron Bolden on

Bright and easy to install. Would recommend to my friends

Great product

Posted by Unknown on

Easy to install very bright great product

EXELLENT:

Posted by Unknown on

Very satisfy, good product.

Excellent product.

Posted by Unknown on

Excellent product. Overall great company and customer service. Highly recommended.