Advanced Purple SMD LED Motorcycle Light Kit
Image
/product_images/uploaded_images/smd-strip.png?t=1450820315
cta
/product_images/uploaded_images/waterproof-cb-cta.jpg
cta
/product_images/uploaded_images/16-moto-button-4-brightness.jpg
cta
/product_images/uploaded_images/16-moto-button-smd-led.jpg
cta
/product_images/uploaded_images/16-moto-button-4-patterns.jpg
cta
/product_images/uploaded_images/16-moto-button-2-new-remotes-adv-million.jpg
cta
/product_images/uploaded_images/16-moto-button-12v.jpg
pdf
/content/instructions/Advanced-Single-Color-Motorcycle-Lighting-Kit-Waterproof-CB.pdf
GoogleImage
https://www.motorcycleledlights.com/product_images/uploaded_images/google/17-Adv-Single-WP-Google-Shopping.jpg
Product Description
LEDGlow's Advanced Purple SMD LED Motorcycle Lights is the next generation of motorcycle lighting as it adds a complete and spotless glow to any motorcycle by utilizing SMD technology that standard 5mm LEDs cannot compete with. What are the major differences between the SMD motorcycle kit and the standard LED motorcycle kit? To simply put it, the SMD lighting kits are much brighter by featuring more LEDs and the light strips are much thinner than the standard LED motorcycle kit. The Purple SMD Motorcycle Kit features an expanded LED count with its SMD chips, resulting in more LEDs working together to bring a vibrant aura surrounding your bike. A single SMD chip contains 3 concentrated LEDs, which produce a much brighter, wide angle illumination with less spotting than standard 5mm LEDs. Another major difference between the SMD lighting kits and the standard LED light kits is that the light strips for the SMD kit are much thinner and are able to be mounted in tighter areas, completely hiding the strip and exposing a more complete, vivid glow.
These purple motorcycle LED lights are offered in 6pc – 18pc kit options packed with an assortment of innovative abilities and safety features. The included waterproof control box features a solid color mode with 4 brightness levels, 3 flashing modes and 1 fading mode that are all easily selected using one of the two wireless remotes. The waterproof control box features a new, unique round design that measures at 1 5/8" in diameter and 5/8" in height making it extremely easy to hide under the seat. Attached to the control box is 18" of wire with a male modular connector that connects to the power harness and 12" of power and ground wires that connect to the battery. The power wire features a waterproof 2 amp inline blade fuse that protects the power circuit of the control box. Each 1/8" in depth, waterproof light strip comes included with 4' of power wire for maximum mounting capabilities and is able to be cut every two SMD chips for easier mounting on smaller and tighter locations. LEDGlow includes installation instructions, a one year limited warranty and free lifetime technical support with each purchase.
LEDGlow's Wire Extensions easily connect to the power wires on your flexible LED lighting strips to extend the 4' power wires to additional 1', 2', 3' or 5' lengths. This is perfect for larger bikes or lighting strips that are being mounted in locations further away from your control box.
LEDGlow is now offering 3M™ Adhesion Promoter, which is a liquid primer that creates an extra layer of adhesion between the LED strip and the mounting surface your bike when installing one of LEDGlow's Motorcycle Lighting Kits. Using this adhesion promoter is not required for installation, but allows for a much stronger bond than simply installing the light strip with the included 3M™ Tape on the lighting strip.
Advanced Purple SMD LED Motorcycle Lighting Kit Includes:
Ultra Bright, Wide Angle Purple 5050 SMD LEDs
Available in 6, 8, 10, 12, 14, 16 & 18 Piece Kits
Waterproof Control Box
(2) Wireless Remotes
Solid Color Mode with 4 Brightness Levels
3 Flashing Modes and 1 Fading Mode
Strips are 1/8" in Depth
4' of Wire per Strip
Waterproof Strips
Waterproof 2 Amp Inline Blade Fuse
Expandable up to 116 SMD LEDs
Installation Hardware and Instructions
One Year Limited Warranty
Free Lifetime Technical Support

Kit Size
6pc. Kit
8pc. Kit
10pc. Kit
12pc. Kit
SMD Total
44 SMDs
56 SMDs
68 SMDs
80 SMDs
LED Total
132 LEDs
168 LEDs
204 LEDs
240 LEDs

Strip Lengths
(2) - 5" Strips
(2) - 9" Strips
(2) - 11" Strips
(2) - 5" Strips
(2) - 7" Strips
(2) - 9" Strips
(2) - 11" Strips
(2) - 5" Strips
(4) - 7" Strips
(2) - 9" Strips
(2) - 11" Strips
(2) - 5" Strips
(6) - 7" Strips
(2) - 9" Strips
(2) - 11" Strips

Kit Size
14pc. Kit
16pc. Kit
18pc. Kit
SMD Total
92 SMDs
104 SMDs
116 SMDs
LED Total
276 LEDs
312 LEDs
348 LEDs

Strip Lengths
(2) - 5" Strips
(8) - 7" Strips
(2) - 9" Strips
(2) - 11" Strips
(2) - 5" Strips
(10) - 7" Strips
(2) - 9" Strips
(2) - 11" Strips
(2) - 5" Strips
(12) - 7" Strips
(2) - 9" Strips
(2) - 11" Strips
Installation Videos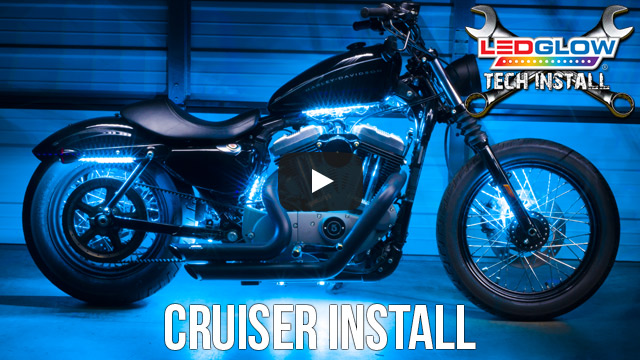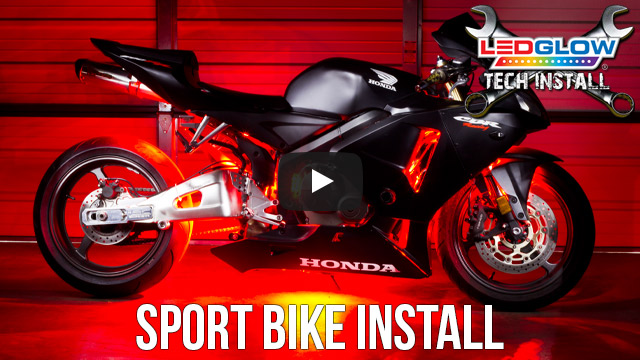 Product Reviews
Write Review
Showing reviews 1-5 of 8 | Next
Works just as advertised.

Posted by Clay on

The lights work as they should and the bike looks great with them on. The only thing i would change would to be make them able to be series connected with plugs on each end. Whatever you do order the 3m packets to ensure proper adhesion. They work.

High Quality light system

Posted by Paul McGrath on

The lights were very easy to install and connect. I would suggest taking everything out of the way first...saddlebags...rear seat and backrest...front seat...tank. Hook to the positive side of the battery and then run all the wire under the seat with the ground connecting to the closest ground screw available. I would also do this so that you can check all the lights before installing as I had a plug that did not work. Overall very pleased but wasn't going to wait for replacement whip as I needed to get this all back together. Take your time and make sure all is away from heat with zip ties. It took me 4 hours but is perfect with no wires visible...just that bright purple glow surrounding the bike. what a head turner for sure!!!

David

Posted by David on

4th set of led lights for our bikes led glow ship out fast if you have a problem they will take care of the problem

Trike led lights

Posted by Jeff L Harmon on

I had read the instructions online. After reading them I figured that I could do these by myself. That's when I ordered 12 led package.
Once I received my package the next day I installed them, after I had watched the video I knew to put the Leds in place first, then ran the wires in places that would overheat or melt from exposure to the exhaust system. The last was to hook them into three wiring system and then to the battery. After you hook the Leds to the battery system, bundle all the wires together in a neat wrap, wire tying the wires together and Fucking then in a nicer best place. Thank you for your instructions, they were the easiest instructons i have had

Oh the lights are great, when do the clocks change again, lol

Satisfied

Posted by Robert on

Ordered the 8 light kit in purple smd just installed very bright very purple took a little time to install but well worth it.
Very satisfied with my order!
Showing reviews 1-5 of 8 | Next