Posted by Mike C on May 08, 2018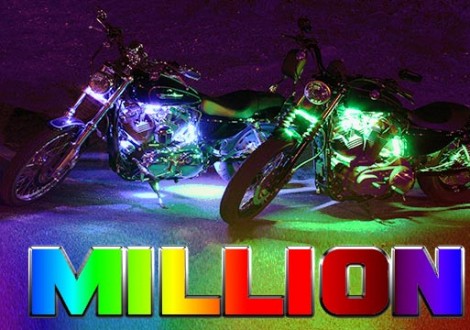 Just introduced to LEDGlow's product lineup is a multi-color pod lighting kit that features all of your favorite colors and lighting patterns in one easy to use and affordable kit, the Advanced Million Color SMD Pod Lighting Kit! What makes this pod lighting kit so innovative is that it utilizes LEDGlow's signature Advanced Million Color Control Box. This motorcycle control box features 15 solid colors that include Blue, Green, Red, White, Purple, Pink, Orange, Yellow and many more, as well as 2 color cycle modes, 3 flashing patterns and 1 color fading mode. The control box's featured colors and patterns are easily selected with a few simple clicks by using the included four button wireless remote. Each pod light features 3 surface mounted RGB LEDs that are used to create any featured color while also producing a vibrant and spotless glow.
Installing each pod lights is a breeze with a low profile design that measures 1.25" in diameter with a thickness of 0.30". This makes mounting the pod light in tighter locations of the motorcycle extremely easy as well as easy to hide. Users have the option to use Adhesion Promoter when mounting each pod to the cleaned area of the motorcycle for added adhesion and strength of the tape overtime. Each pod light features modular connections that allow for plug and play connectivity to the Advanced Million Color Control Box and power harness that takes only minutes. LEDGlow includes all necessary installation instructions, free lifetime technical support and a one year limited warranty with each Advanced Million Color Pod Lighting Kit for motorcycles.