Posted by Erica on May 07, 2018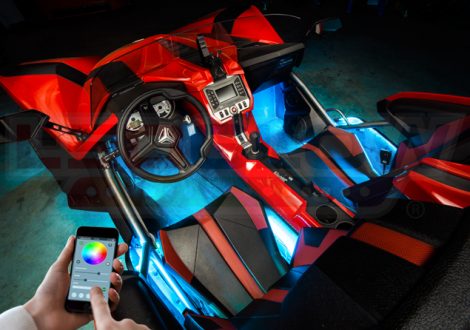 Polaris Slingshot owners can now add the illumination they need for their three-wheeled roadster with LEDGlow's Advanced Million Color Slingshot Lighting Kit with Smartphone Control! You won't have trouble lighting up your Slingshot as the lighting kit is offered in a 20 pc base kit, 32 pc kit and a 50 pc kit for ultimate brightness. This Slingshot lighting kit uses ultra-bright SMD LEDs to add a custom, multi-colored accent lighting kit to your Slingshot with a variety of lighting effects.
The included waterproof Advanced Million Color Control Box with Smartphone Control offers users total control directly from the palms of their hands using a smartphone device to access the LEDGlow Motorcycle Control App. This smartphone compatible kit allows you to use your iOs (7.0 & up) or Android (4.4 KitKat & up) device to easily select virtually any color using the integrated color wheel as well as a dropdown menu with 15 unique lighting patterns. The Smartphone Control Box adds a dual zone feature to your Slingshot, which allows for the independent illumination of 2 separate light sections. The automatic brake light feature illuminates all installed LEDs in red to mirror the brake lights, while safely signaling other motorists on the road. The hazard light feature automatically overrides any color or pattern and flashes amber LEDs warning other drivers. This Slingshot Smartphone Lighting Kit features the first-of-its-kind low voltage shut off setting that helps conserve the life of the Slingshot's battery. If the battery voltage reads less than 10 volts for more than 60 seconds, the kit will automatically shut off allowing you to safely get to your destination.
The Lighting Kit utilizes Bluetooth 4.0 LE technology to pair your smartphone to the Smartphone control box for a secure connection that greatly reduces power consumption while maintaining a secure point-to-point communication range. Each Slingshot kit includes 2 wireless 4 button remotes as an alternate option to operate the kit. Each Advanced Million Color Slingshot Lighting Kit features (2) 36" side mounting wheel well strips, as well as 24", 18", 10.5", 8.5", 6.5", and 3" pairs of flexible lighting strips. Each kit also includes (2) 6pc power harnesses and 6pc, 4pc and 2pc add-on harnesses, as well as 5', 3' and 1' extension harnesses. The quantity of light strip pairs, wire harnesses and 3M Adhesion Promoter will vary based on which kit size is purchased! LEDGlow stands behind each Slingshot Lighting Kit purchase with a one year limited warranty and free lifetime technical support.