Build Your Own Advanced Million Color SMD LED Motorcycle Lighting Kit
GoogleImage
https://www.motorcycleledlights.com/product_images/uploaded_images/google/17-Adv-Million-WP-Google-Shopping.jpg
Product Description
How To Build Your Custom Kit:
Select Your Control Box
Select Your Strip Lengths
Select Add-On Wire Harnesses or 3M Promoter (Optional)
Be Sure Your LED Count Stays Under 250 Total LEDs by Consulting the LED Calculator
Add to Cart and Checkout!
LEDGlow's Custom Advanced Million Color Motorcycle Lighting Kit allows you to build a motorcycle led light kit from the ground up, all to your exact specifications. This motorcycle lighting kit lets you select from 7 different LED strip lengths, all featuring surface mounted RGB LEDs that will illuminate your bike, giving you a completely custom look, while also adding much needed visibility for when you are riding at night. This included surfaced mounted RGB LEDs offer ultra-vibrant solid color modes and also allow for a lower profile lighting strip that can be easily hidden. SMD LEDs are comprised of three individual LEDs which are used to make each 15 distinct solid colors, and when looking directly at the strips you cannot see the three separate LEDs.
This custom motorcycle LED lighting kit includes slim and easily hidden control box can power a total of 250 and features 15 dynamic solid color modes, 2 color cycle modes, 3 flashing modes, and 1 fading mode all of which are easily selected with the included wireless remote. Each motorcycle lighting strip can be cut after every third LED for easier mounting in smaller locations, features 4 feet of power wire, and with the included 3M tape you can bend and curve each strip to your desired mounting location. LEDGlow's motorcycle LED lights include a one year limited warranty and free lifetime technical support.
LEDGlow's Advanced Million Color 2 Foot Wire Extensions easily connect to the power wires on your flexible SMD lighting strips. Installing one of these wire extensions will give your lighting strip 6 feet of power wire! This is perfect for larger bikes or lighting strips that are being mounted in locations further away from your control box.
LEDGlow is now offering 3M™ Adhesion Promoter, which is a liquid primer that creates an extra layer of adhesion between the LED strip and the mounting surface your bike when installing one of LEDGlow's Motorcycle Lighting Kits. Using this adhesion promoter is not required for installation, but allows for a much stronger bond than simply installing the light strip with the included 3M™ Tape on the lighting strip.
Custom Motorcycle Lighting Kit Features:
Build Your Own Custom Kit to Include Up To 250 SMD LEDs
Select From 3, 5, 7, 9, 11, 18 & 24 Inch SMD LED Flexible Strips
Slim, Easily Hidden Control Box
4 Button Wireless Remote
15 Solid Color Modes
Solid Color Modes Include Blue, Green, Red, White, Yellow, Purple, Teal, Pink, and Orange
2 Color Cycle Modes, 3 Flashing Modes, and 1 Fading Mode
Strips are 1/4" in Depth
Expandable up to 250 RGB LEDs
4 Feet of Power Wire per Strip
Strips can be Cut to Size
Installation Hardware and Instructions
One Year Limited Warranty
Free Lifetime Technical Support
LED Count:
| | | | | | | | |
| --- | --- | --- | --- | --- | --- | --- | --- |
| Strip Length | 3 Inch | 5 Inch | 7 Inch | 9 Inch | 11 Inch | 18 Inch | 24 Inch |
| SMD LED Count | 3 | 6 | 9 | 12 | 15 | 27 | 36 |
Product & Installation Videos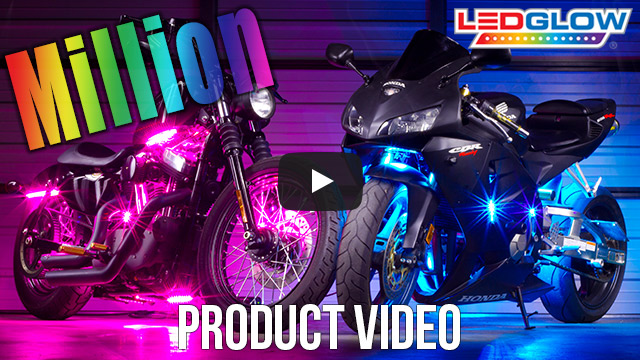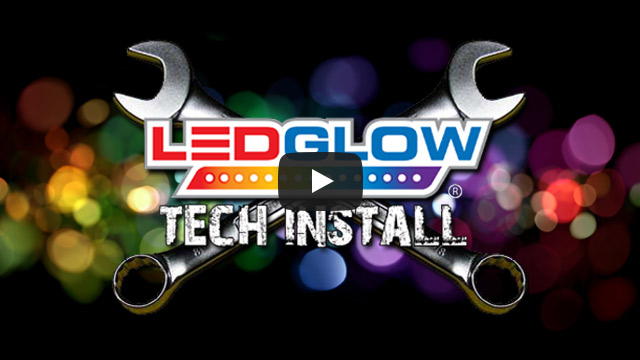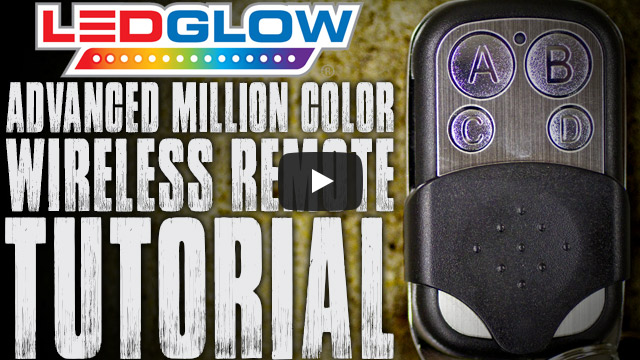 Product Reviews
Write Review
Previous | Showing reviews 6-8 of 8
Awesome

Posted by Unknown on

I love my new light kit. Was easy installation and easy to use control both remote and phone app.

Loved them but have an issue

Posted by Robert on

The LED's are spectacular and very bright.... I love the ability to "play" with the system from my cell phone.... install was dificult however due to end placement and the decision to put male connectors at both the controller and the LED strip. Doing this limits the systems expandability because the 6 wire connectors have all female connectors limiting the ability to connect splitters in line.... this forced me to build my own wire harnesses which was very time consuming.... Additionally, the two zone controller only came with a single 6 wire connector making one entire leg of the two zone controller useless.... I would suggest the system if your comfortable with lots of wiring and the time that it takes to get the job finished.... this is not a plug and play system period.....

Easy to Install, Love doing myself.

Posted by Tyler Jackson on

Install was easy. Removed a few pieces and put the wiring how I wanted it.
Previous | Showing reviews 6-8 of 8