Classic Single Color Dual Zone Control Box with Wireless Remote
pdf
/content/instructions/Single-Color-Motorcycle-Lighting-Kit-w-Dual-Zone-Control-Box.pdf
GoogleImage
https://www.motorcycleledlights.com/product_images/uploaded_images/google/LU-MCCB-DUAL.jpg
GoogleTitle
LEDGlow Motorcycle LED Lights Dual Zone Control Box - Illuminate 2 Sections of the Bike w/ 2 Different Colors - Includes Wireless Remote
Product Description
LEDGlow's Dual Zone Motorcycle Lighting Control Box allows for two different lighting patterns to be running in two different sections of your bike for a truly custom, one of a kind look. This dual zone control box features two lead power wires, along with your choice of two power harnesses that will let you power up to 350 LEDs, giving you full control over your bike's lighting scheme. LEDGlow's dual zone controller features 3 solid illumination modes that allow full for customization over the brightness levels, as well as 15 distinct lighting modes that include fading, strobing, and breathing modes. All of these incredible lighting modes are easily controlled and cycled through with the included 4 button wireless remote. LEDGlow includes a one year limited warranty and free lifetime technical support with all motorcycle lighting control boxes.
NOTE: This upgraded control box is only compatible with LEDGlow's Classic Single Color Motorcycle Lighting Kits
Dual Zone Motorcycle Lighting Control Box Features:
Two Lead Wires for Dual Zone Functions
Your Choice of Two 6, 8, or 10 Strip Power Harnesses
Maximum 350 LEDs
3 Solid Illumination Modes with Brightness Control
15 Distinct Motorcycle Lighting Patterns
Easy to Use 4 Button Wireless Remote
Product Video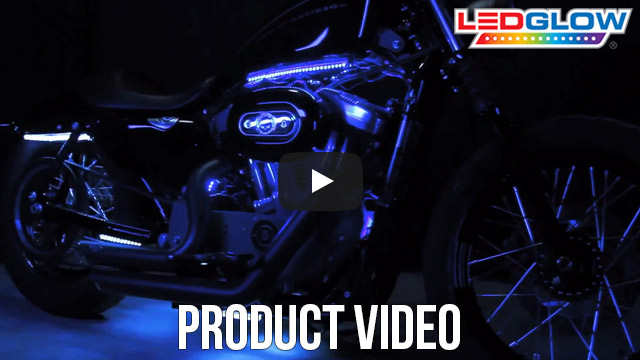 Product Reviews
Write Review
Awesome Controller

Posted by Bill Gray on

This unit is EASY to install. Straight forward and simple installation. Works great!! The ONLY thing I would say is that it should be weatherproof. This would be it's only drawback.