LiteTrike® III Advanced Million Color Trike LED Light Kits at Motorcycle LED Lights include (20) lighting strips designed specifically for trikes. Illuminate your Goldwing, Harley, Can-Am and other models with multi-color patterns for a custom look and added visibility at night. These trike LED lights feature ultra thin, low profile lighting strips packed with vibrant SMD LED tech. The LiteTrike® III Advanced Million Color Trike LED Light Kit comes with (6) 2", (4) 6", (2) 8", (2) 10", (2) 18" and (2) 24" strips plus (2) 36" wheel well strips totaling 330 SMD LEDs.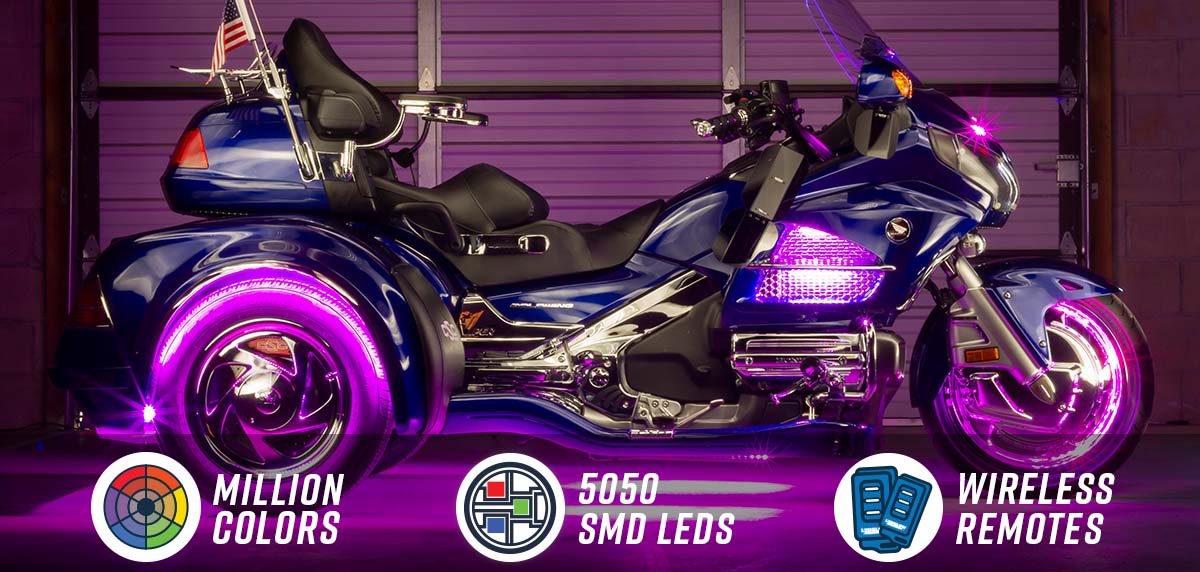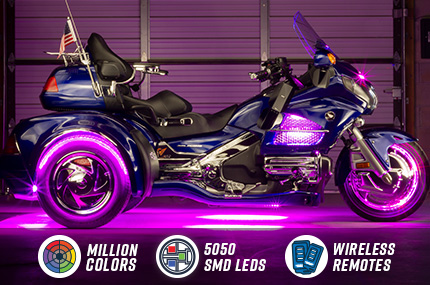 The included LED lighting strip lengths were designed specifically for trikes. They can also be cut after every third LED, giving you even more options for installing the strips in custom layouts for your bike. The compact, waterproof Control Box provides features 15 Solid Color Modes, 2 Color Cycle Modes, 3 Flashing Modes, and 1 Fading Mode all of which are easily selected with one of the two included Wireless Remotes.
Control Box

Compact and Waterproof
15 Solid Color Modes
2 Color Cycles, 3 Flash Modes & 1 Fade Mode
(2) Wireless Remotes
Build Lighting Patterns

Automatic Brake Lights

Added Safety At Night
Changes SMD LEDs To Red
Attach Blue Wire to Brake Signal Wires
Activate By Pulling Brake Handle
Alert Other Drivers On the Road

Strip Profile

Flexible & Waterproof Design
(6) 2", (4) 6", (2) 8", (2) 10", (2) 18" & (2) 24" Strips
(2) 36" Wheel Well Strips
1/8" Ultra Thin Strip Size
Ultra Bright SMD LEDs


Scroll through an almost infinite number of variations in the shading of each Solid Color Mode with LEDGlow's Million Color Cycle. This feature is available as one of the active settings with these LED lights for trikes. Simply select it using one of the remotes. Million Color Cycle Mode will showcase your trike after sundown with an unrivaled multi-color lighting display.
LED Lights for Harley Trikes & More
When you're looking for Harley lights, Goldwing trike LED lights, Can Am LED lights or a light kit for another model, Motorcycle LED Lights is your stop for one-of-a-kind LED accent lighting. Our trike lights are designed specifically for these bikes to highlight every contour of your specific motorcycle. The ultra-thin and flexible lighting strips make it easy to set up the custom layout that is right for you. Get ready to elevate your riding experience with trike LED lights.
Trike LED Light Kits with Everything You Need
Trike lights at LEDGlow come with all parts required for installation. Adhesive strips are attached to each lighting strip, making it easy to set them up on your trike. The strips also have 3' of wire attached so you'll have added flexibility for a custom install. Hardware is included, along with adhesion promoter that reinforces the bond between the adhesive strips and your motorcycle. The installation instructions provided will walk you through the entire process step by step.
LEDGlow Guarantee
LEDGlow includes installation instructions, free lifetime technical support and a one year limited warranty with every purchase of our moto LED lights.