LEDGlow Advanced Million Color LED Light Pods for Motorcycles and ATVs add custom multi-color accent lighting that transforms your riding experience. Each waterproof, low profile pod is equipped with 3 SMD LEDs that deliver ultra-bright accent lighting for your bike. These motorcycle LED light pods give you the ability to power this kit by connecting to any 12 volt power source. Set up LEDGlow LED pod lights for motorcycles in any custom configuration you prefer for your Harley, Yamaha, Ducati and other bikes.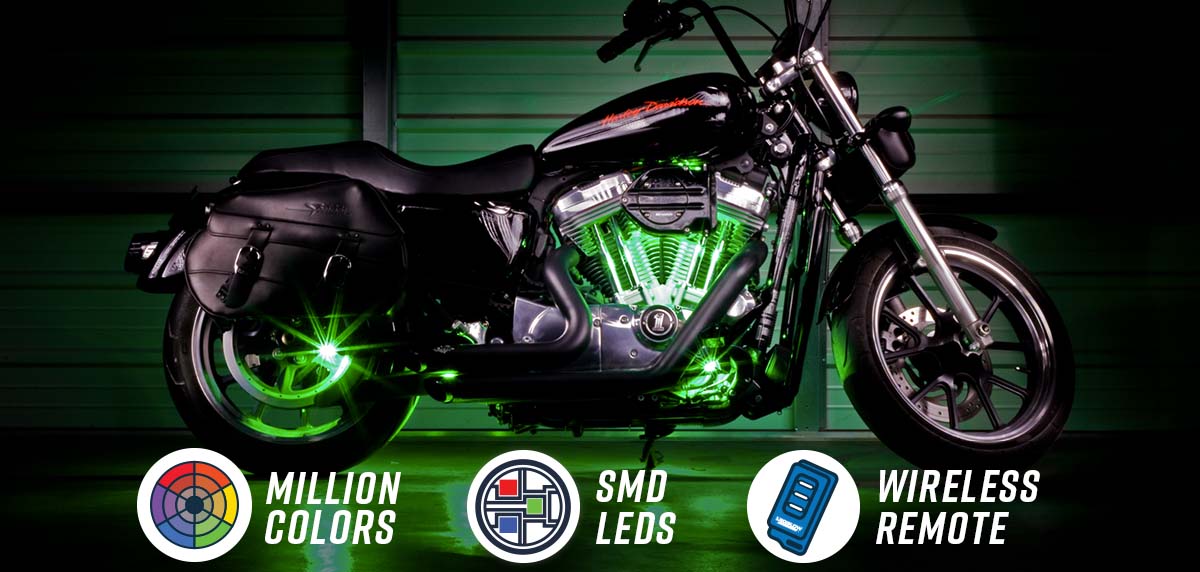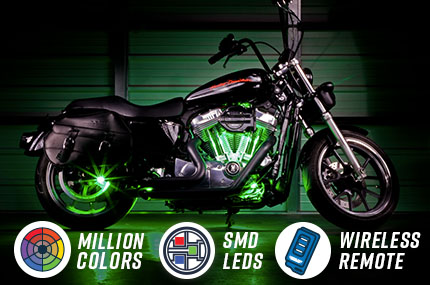 The Advanced Million Color Control Box features 15 Solid Color Modes including Blue, Red, Green, Purple, Yellow, Teal, White, Orange and Pink. There are also 2 Color Cycle Modes, 3 Flashing Patterns and 1 Fading Mode. All of the available colors and lighting effects can be easily selected using the included 4 Button Wireless Remote. The motorcycle LED pod lights are easily connected to the Control Box via the included wiring harnesses that have modular connectors.
Pod LED Lights

Waterproof LED Pod Lights
Ultra-Thin and Compact
Surface Mounted SMD LED Tech
Set Up A Custom Layout
Adhesive Tape & Hardware

Control Box

Durable in Tough Conditions
Create Custom Lighting Patterns
15 Solid Color Modes
Color Cycle, Flashing, Fading Modes
Control Features with Wireless Remote

8pc Wire Harness

2' Power Harness
Modular Connectors
Connect (8) LED Light Pods
Attaches to Control Box
Run Pods Thru (1) Harness


Scroll through an almost infinite number of variations in the shading of each Solid Color Mode with LEDGlow's Advanced Million Color Cycle. This feature is available as one of the Control Box settings for these motorcycle pod lights. Simply select it using the provided wireless remote. Advanced Million Color Cycle Mode will showcase your bike at night with an unrivaled multi-color lighting display.
LED Light Pods for Motorcycles
Enhance the look of any Harley, Yamaha, Ducati, Kawasaki and more with motorcycle LED light pods from LEDGlow. Create any custom configuration you choose to accentuate the gas tank, frame rail, triple trees and more with a spotless glow. You can also build the custom lighting patterns that are right for your motorcycle combining colors and effects. Show off the contours of your bike with head-turning SMD LED illumination.
Motorcycle LED Pod Lights
LEDGlow motorcycle light pods not only transform the look of your bike but also deliver added safety when you're riding after sundown. The ultra-bright SMD LED illumination will help you let other drivers know anytime you're slowing down, changing lanes or making a turn. These light pods for motorcycles provide additional peace of mind to make your ride even more enjoyable. Stand out on the road with motorcycle accent lights and experience another layer of safety anytime you're out with your bike.
LEDGlow Guarantee
LEDGlow includes installation instructions, free lifetime technical support and a one year limited warranty with every purchase of our moto LED lights.