Red Motorcycle Pod LED Lighting Kit
cta
/product_images/uploaded_images/16-moto-kit-thin-pod-design.jpg
cta
/product_images/uploaded_images/16-moto-button-40-smd-leds.jpg
cta
/product_images/uploaded_images/16-moto-button-smd-led.jpg
cta
/product_images/uploaded_images/16-moto-button-100-max-leds.jpg
cta
/product_images/uploaded_images/16-moto-kit-one-switch.jpg
cta
/product_images/uploaded_images/16-moto-kit-05-amps.jpg
pdf
/content/instructions/LEDGlow-8pc-Single-Color-SMD-Motorcycle-Pod-Lighting-Kit.pdf
GoogleImage
https://www.motorcycleledlights.com/product_images/uploaded_images/google/15_LU-POD_R.jpg
GoogleTitle
LEDGlow Motorcycle ATV Red Pod LED Lighting Kit - 8pc-20pc Waterproof Blue LED Light Pods - Includes Power Switch
Product Description
LEDGlow's Red SMD LED Pod Lighting Kits add custom red accent lighting to your motorcycle or ATV at an affordable price. Each pod features 5 SMD LEDs, and the featured SMD LEDs allow for a lower profile pod that is only .30 of an inch thick, as well as adding a crisp and vibrant red color to your bike. Each pod features a modular connector that lets you power this kit with either a control box, on/off switch, or by simply connecting it to any 12 volt power source. Each waterproof LED pod includes 3 feet of power wire, 3M tape, and mounting screws for a quick and easy install. LEDGlow includes a one year limited warranty and free technical support with every Red SMD LED Pod Lighting Kit.
Power Options:
LEDGlow is including an On/Off switch as an easy way to power your motorcycle pod lighting kit, and features one solid illumination mode. Simply connect the pods to the included wire harness, than to any 12 volt source for an extremely quick installation.
LEDGlow's Add-On Control Box is slim, easily hidden and is powered by any 12 volt source. This control box features a solid on mode with four brightness levels, 3 strobing, and one fading mode all of which are easily controlled with the included 4 button wireless remote. The pods easily connect to the control box with the included wire harness.
Each pod lighting kit can be easily added to your already installed LEDGlow Flexible Single Color Motorcycle Lighting Kit. Simply connect the included wire harness to your existing control box and mount each pod to your desired location.
Red Motorcycle Pod Lighting Kit Includes:
Waterproof Red SMD LED Lighting Pods
5 Ultra Bright SMD LEDs per Pod
On/Off Power Switch
Each pod is 1.25 Inches in Diameter and .30 Inches in Depth
3M Adhesive Tape
Mounting Screws
Installation Instructions
Free Lifetime Technical Support
One Year Limited Warranty
Product & Installation Videos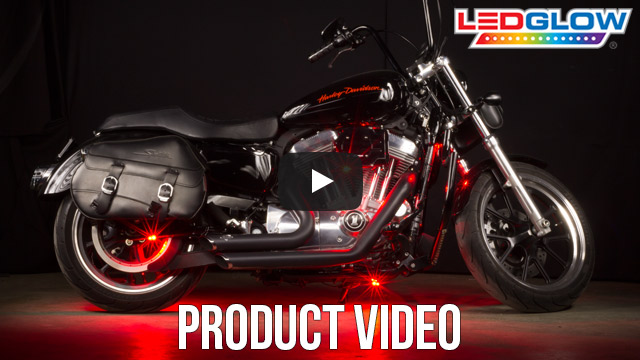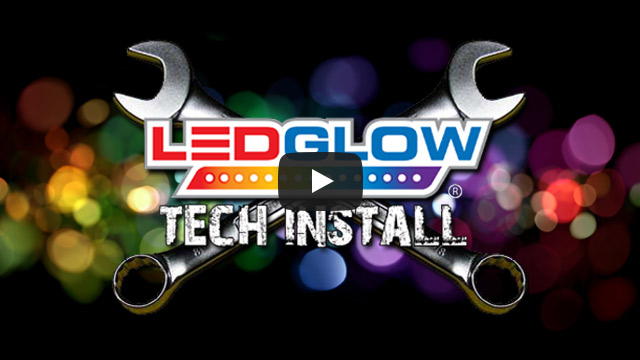 Product Reviews
Write Review
Great light kit, can't beat the price

Posted by Sean Butler on

Light kit came fast. Checked all the lights as instructed then installed all 8 LEDs. They look great, are nice and bright and attach very well using supplied 3m tape. Very easy to install in various positions, wiring is long enough to reach just about any part of the bike. You really can't go wrong for the price if your looking for a basic set of nice LEDs for your ride.

Great lights!

Posted by Brian Davis on

Easy to install. Ordered 10 pods and used eight. I love the simple switch because I don't have to carry around a fob. Lights look great, could be a little brighter but not a huge issue and doesnt change my opinion. These are very affordable and love the and result.

Looks great!!

Posted by Luke Ferry on

Not only do they look good, they were pretty easy to install. Took me 2.5 hrs and I couldn't be happier with how great they look!!

Kinda Disappointed..

Posted by TJ on

The lights are beautiful on the motorcycle. I paid extra for the remote control w/box That didn't work, I followed the instructions and the remote work but not the box, check the fuse and it's seems good. I would've call and ask for a new control box or my money back but I dispite returning items so I won't purchase nothing else from LEDGlow.

Easy and quick

Posted by Charles on

The installation is quick and easy. The 3m tape on the back of the pods is very strong and durable. Everyone can see me at night when I ride. I would recommend these to anyone if your looking to add show to your bike or just a little extra safety while riding.