Posted by Erica on May 07, 2018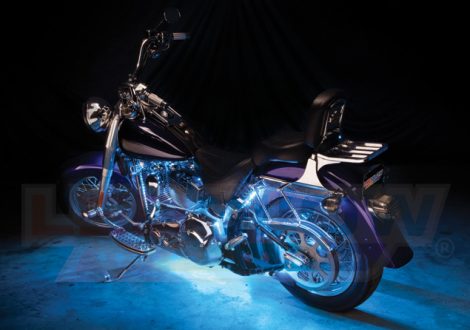 The Advanced Single Color Motorcycle Lights are now available in Ice Blue! Now you can add the cool ice blue color to your bike with SMD technology. Previously, ice blue had only been available in our Classic Motorcycle Lights, but we are now bringing you ice blue in the Advanced Single Color series.
Available in 6-18pc kit options, the ice blue motorcycle lights feature a solid color mode with 4 different brightness levels, 3 flashing modes, and 1 fading mode that can all be easily selected using the included two upgraded wireless remotes. Each SMD strip has a 1/8" in depth making mounting location possibilities almost endless.
The Advanced Single Color kit now features a unique, round, waterproof control box that measures at 1 5/8" in diameter and 5/8" in height allowing you to easily hide it under your bike's seat. Each LEDGlow Advanced Ice Blue Motorcycle Lighting Kit includes all installation instructions, a one year limited warranty and free lifetime technical support with every purchase.