Posted by Erica on May 07, 2018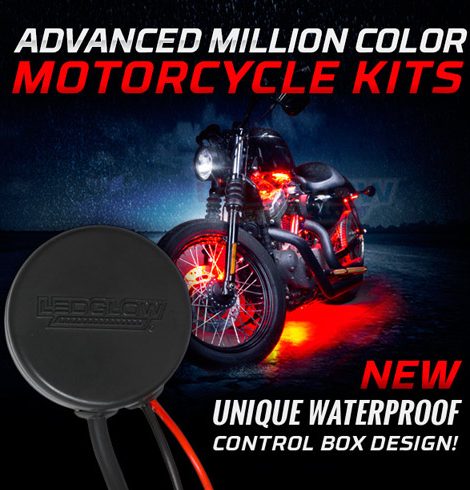 Worry no more when taking your bike out in rain and moisture with LEDGlow's newly redesigned Advanced Million Color Motorcycle Lighting waterproof control box.
The unique new box features a round design that measures 1 5/8" in diameter and 5/8" in height which makes it extremely easy to install this control box to your bike while concealing its location to the naked eye. We recommend installing your control box under the seat or to another compartment to provide for a clean and discreet look. Attached to the control box you will find 18" of wire with a male modular connector to connect to the power harness and 12" of power and ground wires that connect the bike's battery. The power wire features a waterproof 2 amp inline blade fuse that protects the power circuit of the control box.
Each waterproof control box features 15 solid color modes, 2 color cycle modes, 3 flashing modes, and 1 fading mode for complete customization. All of the lighting patterns can easily be selected using one of the two included wireless remotes.
The newly designed control box is included with Advanced Million Color Motorcycle Lighting Kits with 6-20 pieces. Each waterproof control box includes free lifetime technical support and a one year limited warranty!
Stress water damage no more, with this redesigned waterproof control box!