Posted by Erica on May 07, 2018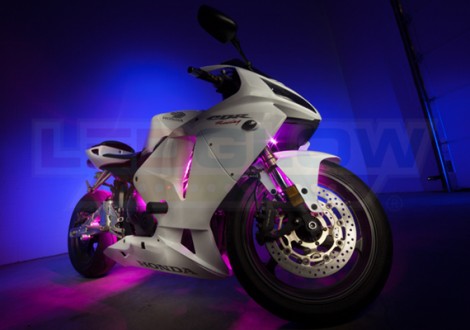 Spring is here and it's the perfect time to add some LEDGlow lighting to your bike for added visibility while riding in the summer nights! LEDGlow introduces the Advanced Million Color Mini Motorcycle Lighting Kit. The Advanced Million Color Mini Motorcycle Lighting Kit will add illumination to your bike's gas tank, frame rail, or triple trees with 4 inch flexible LED strips that create a spotless multi-color glow.
This kit utilizes ultra-bright SMD technology housed in waterproof flexible strips. SMD chips consist of 3 concentrated RGB LEDs that work in unison to create the 15 solid color modes featured with the Advanced Million Color control box. This Advanced Million Color Mini Motorcycle Kit is offered in a 6pc. kit and can be expanded all the way up to a 20pc. kit for maximum brightness. Each 4 inch strip features 4 SMD LEDs and is 1/8 of an inch thick. These small strips are the perfect size can be mounted anywhere on the bike, remember to keep them away from any direct heat source and moving parts. These Mini strips can be cut to fit into smaller or tighter locations, such as any fairing openings or front/rear fenders.
The Advanced Million Color Mini Kit is driven by its slim and easy to hide control box which features 15 vibrant solid color modes that include blue, green, red, white, pink, orange, teal, and more. This kit also features 2 color cycle modes, 3 flashing modes and 1 fading mode. Each mode can easily be selected using the included four button wireless remote.
Looking to get that extra strong bond while mounting your strips to your bike? LEDGlow offers Adhesion Promoter which is a liquid primer that creates an extra layer of adhesion between the mini LED strip and the mounting surface of your motorcycle. Using this adhesion is not required to complete your installation, but is recommended for a much stronger bond that will last over time.
Each Advanced Million Color Mini Motorcycle Lighting Kit includes a limited one year warranty and free lifetime technical support. Give your bike some custom glow this year and add LEDGlow's Advanced Million Color Mini Motorcycle Lights!