Posted by Erica on Apr 01, 2016
Spring is upon us and it's time to get the bikes thawed out and ready to ride! This spring, LEDGlow's Advanced Million Color Motorcycle Control Box with Smartphone Control joins the motorcycle product lineup as the next generation of motorcycle LED lighting! Smartphone Control allows you to have complete control from the palm of your hand to access the features of this lighting kit. This unique multi-color lighting kit provides users with a variety of features that are unmatched by the competition, including the most powerful control box on the market that allows users to install up to 1,000 SMD LEDs for maximum brightness, regardless of bike size.
The LEDGlow Motorcycle Control App allows full control of your motorcycle lighting kit's features directly from your iOS (7.0 & up) or Android device (4.4 & up). The App features an integrated color wheel that allows you to create virtually any color and choose from 15 unique lighting patterns. Using the in-app presets, you can save up to 5 of your favorite customized colors and patterns for quick recall. Use the app to adjust the brightness levels of the lights as well as speed and intensity of the lighting patterns with a few simple swipes of your finger.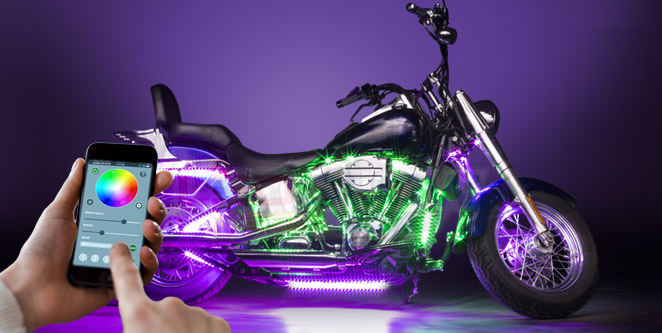 The Advanced Million Color Smartphone Controlled Lights stand out among other lighting kits, by featuring dual zone control, automatic brake lights and hazard lighting. The dual zone control feature allows further color and lighting customization by independently illuminating 2 separate sections of your bike simultaneously. Each zone has the ability to power 500 SMD LEDs for maximum brightness. The automatic brake light feature will illuminate your LEDs in red to mirror the motorcycle's brake lights increasing your visibility and safety on the road. When braking, pulling the brake handle will automatically illuminate red LEDs to alert other motorists of your stop. Choose from two different brake light features: a full red illumination or a brake pulse which automatically strobes red LEDs into solid color mode. Another added safety feature with this kit is the hazard light feature. The hazard light feature will automatically override any color or pattern when hazards are on to flash amber LEDs to alert other motorists on the road.
Concerned about your bike's battery life? The new smartphone app features the first-of-its-kind low voltage shut off setting that helps conserve the life of your motorcycle's battery. This feature automatically shuts off the lighting kit when the motorcycle's battery voltage reads less than 10 volts for more than 60 seconds. This added feature allows you to ride illuminated worry-free.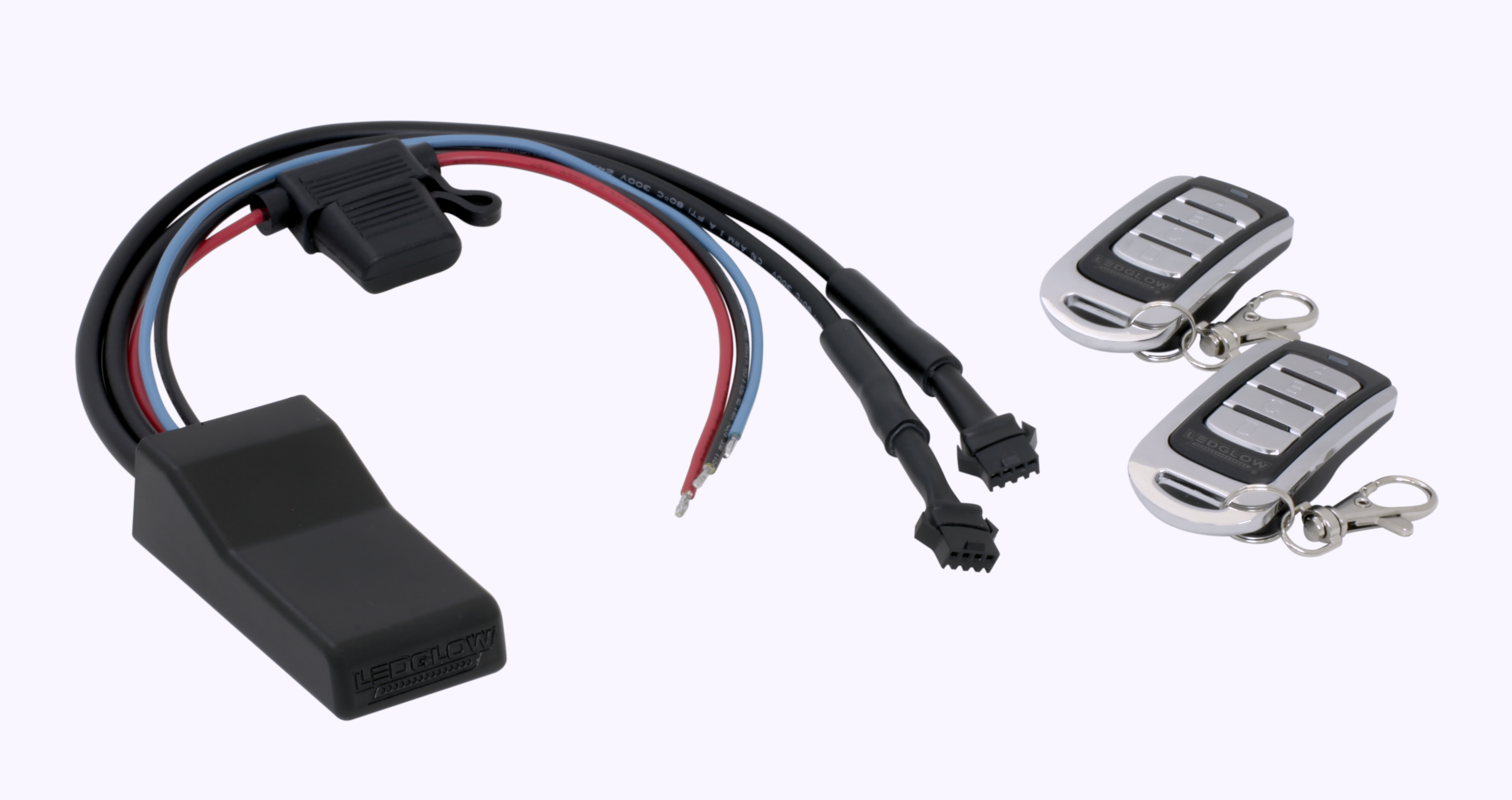 The Advanced Million Color Control Box with smartphone control is the first of our motorcycle kits that is 100% waterproof. Not only are the strips waterproof, but the control box is completely waterproof, too. Each control box is filled with a black epoxy potting material which encapsulates all the controls and circuit boards allowing this control box to easily hold up to a ride in the rain or any other moisture exposure. The wiring should still be tucked inside the bike and away from any moving parts to ensure no damage is done to them.
Easily pair your iOS or Android devices to the control box through a secure, Bluetooth 4.0 LE connection. Using Bluetooth 4.0 low energy technology reduces power consumption greatly while maintaining a secure point-to-point communication range. Your device will automatically connect whenever you are in range of the control box without having to re-pair the device to the control box every time you use it, allowing you to easily start controlling the kit as soon as you are near your vehicle. LEDGlow includes two wireless remote as an alternate control option if you don't have your smartphone handy. The wireless remote features four buttons that can select color options, that can select color options, lighting patterns, brightness/speed levels and dual zone control.
Already have a LEDGlow Advanced Million Color Motorcycle Lighting Kit? You can purchase the new Smartphone Control Box to add smartphone control to your existing kit. The Smartphone Control Box is compatible with our Advanced Million Color Motorcycle Lighting Kit, Advanced Million Color Motorcycle Mini Lighting Kit, Advanced Million Color Trike Lighting Kits, and the Advanced Million Color Pod Lighting Kit! Upgrade now!
Join the motorcycle lighting revolution by suiting your bike up with LEDGlow's Advanced Million Color Motorcycle Lighting Kit with Smartphone Control!